01.12.2018 | Case report | Ausgabe 1/2018 Open Access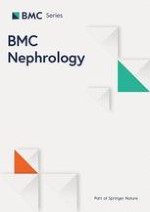 The use of eculizumab in gemcitabine induced thrombotic microangiopathy
Zeitschrift:
Autoren:

Vinod Krishnappa, Mohit Gupta, Haikoo Shah, Abhijit Das, Natthavat Tanphaichitr, Robert Novak, Rupesh Raina
Abstract
Background
Thrombotic microangiopathy (TMA) secondary to gemcitabine therapy (GiTMA) is a very rare pathology that carries a poor prognosis, with nearly half of the cases progressing to end stage renal disease. GiTMA is most commonly associated with adenocarcinomas, most notably pancreatic cancers. The mainstay of management is withdrawal of the offending drug and supportive care. Plasmapheresis has a limited role and hemodialysis may help in the management of fluid overload secondary to renal failure. Furthermore, a C5 inhibitor, eculizumab, has been successfully used in the treatment of GiTMA.
Case presentation
A 64-year-old Caucasian female with history of pancreatic adenocarcinoma on gemcitabine chemotherapy presented with signs and symptoms of fluid overload and was found to have abnormal kidney function. Her BP was 195/110 mmHg, serum creatinine 4.48 mg/dl, hemoglobin 8.2 g/dl, platelets 53 × 103/cmm, lactate dehydrogenase 540 IU/L, and was found to have schistocytes on blood film. A diagnosis of TMA secondary to gemcitabine therapy was suspected. Hemodialysis for volume overload and daily plasmapheresis were initiated. After six days of plasmapheresis, renal function did not improve. Further work up revealed ADAMTS 13 activity >15%, low C3, and stool culture and Shiga-toxin PCR were negative. Renal biopsy was consistent with TMA. Gemcitabine was discontinued, but renal function failed to improve and eculizumab therapy was considered due to suspicion of aHUS. Serum creatinine >2.26 mg/dl and a platelet count of >/= 30 × 109/L is highly suggestive of aHUS, while TTP is more likely when creatinine is <2.26 mg/dl and platelet count of <30 × 109/L. She received intravenous eculizumab for eight months, which resulted in significant improvement of renal function. Other markers of hemolysis, namely LDH and bilirubin, also rapidly improved following eculizumab therapy. Plasmapheresis and hemodialysis were discontinued after two and eight weeks of initiation respectively.
Conclusion
Chemotherapy induced TMA is very rare and requires a high index of clinical suspicion for timely diagnosis. Discontinuation of the offending drug and supportive care is the main stay of treatment; however, eculizumab has been shown to be beneficial in GiTMA. Further research is required to validate this approach.