29.07.2017 | Original Article | Ausgabe 1/2018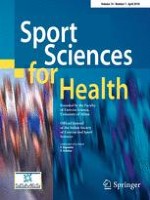 The use of Focus Group Interviews to define the perceived importance of competencies related to the entrepreneurship as starting point for a new career in European athletes: an AtLETyC study
Zeitschrift:
Autoren:

Corrado Lupo, Paolo Riccardo Brustio, Elizabeta Valentic, Doris Kiendl, Rene Wenzel, Wolfgang Stockinger, Irena Valantine, Inga Staskeviciute-Butiene, Izet Rađo, Dino Mujkić, Sujit Chaudhuri, Judit Farkas, Mojca Doupona Topic, Flavia Guidotti
Abstract
Purpose
The present study aimed to investigate the perceived importance of competencies related to entrepreneurship as starting point for a new career in European athletes.
Methods
A Focus Group Interview (FGI) within AtLETyC project (Erasmus+) was administered to 78 European athletes (i.e., 26 female: 27 ± 7 years; 52 male: 28 ± 9 years) related to six countries (i.e., Austria, Bosnia and Herzegovina, Lithuania, Slovenia, Hungary, and Italy). Among 22 items of the FGI, 8 items were focused on general aspects, contact information, the evaluation of the educational background, the sport entrepreneurship expertise, and learning capacity, whereas the remaining 14 Likert scale (i.e., 1–7) items were specifically oriented to determine the perceived importance of entrepreneurship-related competences. For the latter part of the FGI, not-parametric analyses (i.e., Kruskal–Wallis, Mann–Whitney
U
) were applied.
Results
Results showed that all athletes highly consider the importance of both general and entrepreneurship-related competencies, excepting for the latter items in Slovenian athletes. However, main effects between athletes of different countries emerged in 12 of the 14 items, with the highest mean values (6.0–7.0) reported from Bosnia and Herzegovina athletes and the lowest ones (range 3.6–4.8) from Slovenian counterpart.
Conclusion
Although a cross-national scenario in relation to the perceived importance of sport entrepreneurship competences seems to be influenced by different institutional supports for dual career, general results showed that European athletes highly perceived the importance of such competences, confirming the substantial necessity to apply the AtLETyC action.