01.12.2017 | Review | Ausgabe 1/2017 Open Access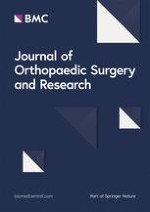 The use of mesenchymal stem cells for cartilage repair and regeneration: a systematic review
Zeitschrift:
Autoren:

Andy Goldberg, Katrina Mitchell, Julian Soans, Louise Kim, Razi Zaidi
Abstract
Background
The management of articular cartilage defects presents many clinical challenges due to its avascular, aneural and alymphatic nature. Bone marrow stimulation techniques, such as microfracture, are the most frequently used method in clinical practice however the resulting mixed fibrocartilage tissue which is inferior to native hyaline cartilage. Other methods have shown promise but are far from perfect. There is an unmet need and growing interest in regenerative medicine and tissue engineering to improve the outcome for patients requiring cartilage repair. Many published reviews on cartilage repair only list human clinical trials, underestimating the wealth of basic sciences and animal studies that are precursors to future research. We therefore set out to perform a systematic review of the literature to assess the translation of stem cell therapy to explore what research had been carried out at each of the stages of translation from bench-top (in vitro), animal (pre-clinical) and human studies (clinical) and assemble an evidence-based cascade for the responsible introduction of stem cell therapy for cartilage defects.
Main body of abstract
This review was conducted in accordance to PRISMA guidelines using CINHAL, MEDLINE, EMBASE, Scopus and Web of Knowledge databases from 1st January 1900 to 30th June 2015. In total, there were 2880 studies identified of which 252 studies were included for analysis (100 articles for in vitro studies, 111 studies for animal studies; and 31 studies for human studies). There was a huge variance in cell source in pre-clinical studies both of terms of animal used, location of harvest (fat, marrow, blood or synovium) and allogeneicity. The use of scaffolds, growth factors, number of cell passages and number of cells used was hugely heterogeneous.
Short conclusions
This review offers a comprehensive assessment of the evidence behind the translation of basic science to the clinical practice of cartilage repair. It has revealed a lack of connectivity between the in vitro, pre-clinical and human data and a patchwork quilt of synergistic evidence. Drivers for progress in this space are largely driven by patient demand, surgeon inquisition and a regulatory framework that is learning at the same pace as new developments take place.