03.01.2021 | Review Article | Ausgabe 3/2021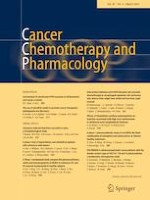 The use of zebrafish model in prostate cancer therapeutic development and discovery
Zeitschrift:
Autoren:

Haneen Amawi, Alaa A. A. Aljabali, Sai H. S. Boddu, Sadam Amawi, Mohammad A. Obeid, Charles R. Ashby Jr., Amit K. Tiwari
Wichtige Hinweise
Publisher's Note
Springer Nature remains neutral with regard to jurisdictional claims in published maps and institutional affiliations.
Abstract
Zebrafish is now among the leading in vivo model for cancer research, including prostate cancer. They are an alternative economic model being used to study cancer development, proliferation, and metastasis. They can also be effectively utilized for the development of cancer drugs at all levels, including target validation, and high-throughput screening for possible lead molecules. In this review, we provide a comprehensive overview of the role of zebrafish as an in vivo model in prostate cancer research. Globally, prostate cancer is a leading cause of death in men. Although many molecular mechanisms have been identified as playing a role in the pathogenesis of prostate cancer, there is still a significant need to understand the initial events of the disease. Furthermore, current treatments are limited by the emergence of severe toxicities and multidrug resistance. There is an essential need for economical and relevant research tools to improve our understanding and overcome these problems. This review provides a comprehensive summary of studies that utilized zebrafish for different aims in prostate cancer research. We discuss the use of zebrafish in prostate cancer cell proliferation and metastasis, defining signaling pathways, drug discovery and therapeutic development against prostate cancer, and toxicity studies. Finally, this review highlights limitations in this field and future directions to efficiently use zebrafish as a robust model for prostate cancer therapeutics development.