01.12.2014 | Study protocol | Ausgabe 1/2014 Open Access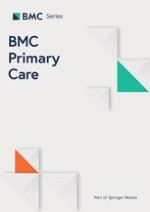 The value of signs, symptoms and plasma heart-type fatty acid-binding protein (H-FABP) in evaluating patients presenting with symptoms possibly matching acute coronary syndrome: background and methods of a diagnostic study in primary care
Zeitschrift:
Autoren:

Robert TA Willemsen, Frank Buntinx, Bjorn Winkens, Jan F Glatz, Geert Jan Dinant, The 'RAPIDA'-study team
Wichtige Hinweise
Competing interests
The study is funded by means of an unrestricted grant by FABPulous BV, the company that developed the PoC H-FABP-test. FABPulous BV agreed not to interfere with data collection, data management and analysis of data. Publication of possible unfavourable outcome of our study was guaranteed. JG is chief scientific officer (CSO) at FABPulous BV. The other authors (RW, BW, FB en GJD) declare that they have no competing interests.
Authors' contributions
RW wrote the protocol. FB, JG and GJD contributed equally to the methodology and definition of the protocol and the text of this article. BW advised on statistic methods and co-wrote specific parts concerning statistics. All authors read and approved the final manuscript.
Abstract
Background
Chest complaints presented to a general practitioner (GP) are frequently caused by diseases which have advantageous outcomes. However, in some cases, acute coronary syndrome (ACS) is present (1.5-22% of cases). The patient's signs, symptoms and electrocardiography results are insufficient diagnostic tools to distinguish mild disease from ACS. Therefore, most patients presenting chest complaints are referred to secondary care facilities where ACS is then ruled out in a majority of patients (78%). Recently, a point of care test for heart-type fatty acid-binding protein (H-FABP) using a low cut-off value between positive and negative of 4 ng/ml has become available. We aim to study the role of this point of care device in triage of patients presenting chest complaints possibly due to ACS, in primary care. Our research protocol is presented in this article. Results are expected in 2015.
Methods/Design
Participating GPs will register signs and symptoms in all patients presenting chest complaints possibly due to ACS. Point of care H-FABP testing will also be performed. Our study will be a derivation study to identify signs and symptoms that, combined with point of care H-FABP testing, can be part of an algorithm to either confirm or rule out ACS. The diagnostic value for ACS of this algorithm in general practice will be determined.
Discussion
A safe diagnostic elimination of ACS by application of the algorithm can be of significant clinical relevance. Improved triage and thus reduction of the number of patients with chest complaints without underlying ACS, that are referred to secondary care facilities, could lead to a substantial cost reduction.
Trial registration
ClinicalTrials.gov,
NCT01826994
, accepted April 8
th
2013.