01.03.2012 | Ausgabe 3/2012 Open Access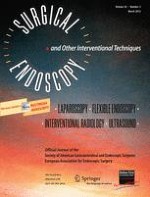 Therapeutic approach of human peritoneal carcinomatosis with Dbait in combination with capnoperitoneum: proof of concept
Zeitschrift:
Autoren:

Wiebke Solass, Aurélie Herbette, Tina Schwarz, Alexander Hetzel, Jian-Sheng Sun, Marie Dutreix, Marc A. Reymond
Wichtige Hinweise
Presented at the Annual Congress of the European Association for Endoscopic Surgery (EAES), Torino, Italy, June 2011.
Abstract
Background
Peritoneal carcinomatosis is an unmet medical need. Laparoscopy offers a unique opportunity to control and to steer the operating environment during surgery by loading carbon dioxide with a therapeutic substance and creating the so-called therapeutic capnoperitoneum. We have treated a human sample of peritoneal carcinomatosis from an endometrial adenocarcinoma ex vivo just after surgery.
Methods
A nontoxic therapeutic agent (Dbait) was aerosolized into a box containing diseased human peritoneum under a pressure of 12 mmHg CO2. Dbait (noncoding DNA fragments) acts through jamming DNA damage sensing and signaling, ultimately inhibiting DNA repair system of cancer cells. Dbait were coupled to cholesterol molecules to facilitate intracellular uptake, and to Cyanine (Cy5) to allow detection by fluorescence. In a control experiment, the same solution was applied to the other half of the sample using conventional lavage.
Results
Physical results revealed fluorescence within the tumor up to 1 mm depth in the therapeutic capnoperitoneum sample and no uptake in the lavage sample. Biological results showed intranuclear phosphorylation of H2AX in the nebulized sample and no activity in the lavage sample. Importantly, tumor nodules showed more activity than the neighbor, normal peritoneum. Detection of histone gamma-H2AX (phosphorylated H2AX) reveals activation of DNA-dependent protein kinase (DNA-PK) by Dbait, which has been shown to be the key step for sensitization to genotoxic therapy.
Conclusions
Dbait are taken up by cancer cells and have a biological activity up to 1 mm depth. Nebulization of the molecule is significantly more effective than conventional lavage. This proof of principle supports the need for clinical studies applying therapeutic capnoperitoneum together with Dbait for treating peritoneal carcinomatosis.