01.09.2009 | Original Paper | Ausgabe 9/2009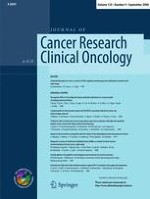 Therapeutic effects of recombinant human endostatin adenovirus in a mouse model of malignant pleural effusion
Zeitschrift:
Autoren:

Fang Fang, Ping Chen, Xin Wu, Li Yang, Xun Yang, Zhen-Xiang Xi, Bin-Wen Zhou, Xi-Kun Zhou, Zhi-Yong Qian, Bo Xiao, Yu-Quan Wei
Wichtige Hinweise
F. Fang, P. Chen and X. Wu have equally contributed to this work.
Abstract
Purpose
Malignant pleural effusion (MPE) is a common clinical problem in patients with advanced cancer. Evidence suggests that tumor-mediated angiogenesis and enhanced vascular permeability in the pleural wall are due to high levels of vascular endothelial growth factor (VEGF), which plays an important role in the pathogenesis of MPE. The present study was designed to test whether the recombinant adenovirus-mediated delivery of human endostatin (Ad-hEndo), one of the potent inhibitors of angiogenesis, would inhibit the formation and progression of MPE.
Methods
We developed a novel mouse model of MPE by injecting Lewis lung carcinoma (LLC) cells directly into pleural cavity of C57BL/6 mice. To evaluate the therapeutic effects of endostatin in this MPE model, we injected the Ad-hEndo into the pleural cavity of MPE-bearing mice three times with the 3-day interval.
Results
We found that this treatment resulted in significant reduction in pleural effusion volume, the number of pleural tumor foci, microvessel density, and vascular permeability, while it significantly prolonged the survival time. In addition, VEGF level of MPE in the group administered with the Ad-hEndo was obviously decreased as compared with that in the two control groups administered with null-adenovirus (Ad-null) or normal saline.
Conclusions
Our work provides a rationale for future studies toward evaluating the effectiveness of the adenovirus-based endostatin therapy for MPE.