01.12.2014 | Research | Ausgabe 1/2014 Open Access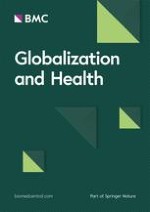 'There are a lot of new people in town: but they are here for soccer, not for business' a qualitative inquiry into the impact of the 2010 soccer world cup on sex work in South Africa
Zeitschrift:
Autoren:

Marlise L Richter, Fiona Scorgie, Matthew F Chersich, Stanley Luchters
Wichtige Hinweise
Competing interests
The authors declare that they have no competing interests.
Authors' contributions
MR led the design of the study, trained interviewers, coordinated data collection, performed the thematic analysis, wrote the first draft and edited subsequent drafts of the manuscript. FS, SL and MFC gave input into study design, data collection and analysis, helped draft and edit the manuscript. All authors read, gave substantial input and approved the final manuscript.
Abstract
Background
Sports mega-events have expanded in size, popularity and cost. Fuelled by media speculation and moral panics, myths proliferate about the increase in trafficking into forced prostitution as well as sex work in the run-up to such events. This qualitative enquiry explores the perceptions of male, female and transgender sex workers of the 2010 Soccer World Cup held in South Africa, and the impact it had on their work and private lives.
Methods
A multi-method study design was employed. Data consisted of 14 Focus Group Discussions, 53 sex worker diaries, and responses to two questions in surveys with 1059 male, female and transgender sex workers in three cities.
Results
Overall, a minority of participants noted changes to the sex sector due to the World Cup and nothing emerged on the feared increases in trafficking into forced prostitution. Participants who observed changes in their work mainly described differences, both positive and negative, in working conditions, income and client relations, as well as police harassment. The accounts of changes were heterogeneous - often conflicting in the same research site and across sites.
Conclusions
No major shifts occurred in sex work during the World Cup, and only a few inconsequential changes were noted. Sports mega-events provide strategic opportunities to expand health and human rights programmes to sex workers. The 2010 World Cup missed that opportunity.