12.09.2019 | Original Article | Ausgabe 4/2019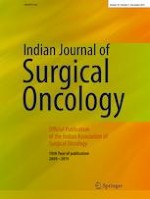 This 'Rose' Has no Thorns—Diagnostic Utility of 'Rapid On-Site Evaluation' (ROSE) in Fine Needle Aspiration Cytology
Zeitschrift:
Autoren:

Kanchan Kothari, Santosh Tummidi, Mona Agnihotri, Pragati Sathe, Leena Naik
Wichtige Hinweise
Publisher's Note
Springer Nature remains neutral with regard to jurisdictional claims in published maps and institutional affiliations.
Abstract
Fine needle aspiration (FNA) cytology is a basic diagnostic technique used to investigate superficial and deep swellings. Rapid on-site evaluation (ROSE) using toluidine blue (TB) is easily available, cheap, cost-effective, can be used both for testing adequacy and giving provisional diagnosis. To evaluate the role of ROSE using toluidine blue staining in arriving at a diagnosis in comparison to routine stains. A total of 1500 cases of FNA of palpable swellings from sites like salivary gland, breast, thyroid, lymph node, and soft tissue lesions [non-image guided] during a 9-month period were studied. All the cases were evaluated by ROSE using toluidine blue stain and routine Giemsa/PAP staining. The results were compared in each case. Only 2% cases proved inadequate on TB, Giemsa and PAP combination, commonest site of inadequacy being lymph node. Adequate sample was obtained within two passes in 92.5% cases. The turn-around time (TAT) was 1 day in 96.4% of cases. The average time for making a provisional diagnosis on TB was 3 minutes. There was 99.2% concordance between TB and final cyto-diagnosis. Validity parameters: sensitivity 98%, specificity 100%, positive predictive value 100%, negative predictive value 99.8%, efficacy 99.2% and false negative 1.94%. ROSE using toluidine blue is a reliable means of demonstrating sample adequacy, for making a provisional diagnosis and guiding collection of diagnostic material for microbiology, immunocytochemistry (ICC), cell block and molecular testing etc. The technique is easy enough for general laboratories to incorporate into their routine practice. ROSE can be called as the "
frozen section of cytology"
.