02.02.2019 | Original Article | Ausgabe 4/2019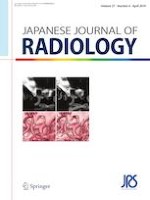 Thoracic endovascular aortic repair for the treatment of ruptured acute type B aortic dissection
Zeitschrift:
Autoren:

Shuji Chino, Noriyuki Kato, Ken Nakajima, Takashi Hashimoto, Takatoshi Higashigawa, Takafumi Ouchi, Hiroaki Kato, Naoki Yamamoto, Hisato Ito, Yasumi Maze, Toshiya Tokui, Hajime Sakuma
Wichtige Hinweise
Publisher's Note
Springer Nature remains neutral with regard to jurisdictional claims in published maps and institutional affiliations.
Abstract
Purpose
To evaluate the efficacy of thoracic endovascular aortic repair (TEVAR) for ruptured acute type B aortic dissection (r-ATBAD).
Materials and methods
The study included 18 patients (15 men and 3 women) who underwent TEVAR for r-ATBAD in two institutions between 1997 and 2017. The mean patient age was 74 ± 10 years. The false lumen was patent in 13 patients (72%) and was mostly thrombosed in 5 patients (28%). Three patients had malperfusion of aortic branches. Eight patients (44%) were in circulatory shock.
Results
Eleven patients (61%) died during or following TEVAR during admission. The causes of death were aortic rupture (
n 
= 6), sepsis (
n
 = 2), cerebral hypoxia (
n
 = 1), pneumonia (
n
 = 1), and renal failure (
n
 = 1). Statistical analysis showed that dissection extending to the infrarenal level was significantly related to death from aortic rupture (
P
 = 0.013). Early adverse events were observed in 12 patients (67%). One patient died from a non-aorta-related cause (sepsis) after discharge. The overall survival rate at 1 year was 39%. After discharge, an aorta-related adverse event (intimal injury) was observed in one patient. The adverse event-free survival rate at 1 year was 17%.
Conclusions
Our results indicate that TEVAR for r-ATBAD is associated with high mortality and morbidity. More advanced strategies may be required to improve the outcome.