01.01.2012 | Original Paper | Ausgabe 1/2012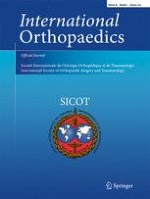 Three dimensional-CT evaluation of femoral neck anteversion, acetabular anteversion and combined anteversion in unilateral DDH in an early walking age group
Zeitschrift:
Autoren:

JingYu Jia, LianYong Li, LiJun Zhang, Qun Zhao, XiJuan Liu
Abstract
Purpose
At present, the indications for femoral derotational osteotomy remain controversial due to the inconsistent findings in femoral neck anteversion in developmental dysplasia of the hip (DDH). Moreover, combined anteversion is not assessed in unilateral DDH using three dimensional-CT. Therefore, the purposes of our study were to observe whether the femoral neck anteversion (FA), acetabular anteversion (AA) and combined anteversion (CA) on the dislocated hips were universally presented in unilateral DDH according to the classification system of Tönnis.
Methods
Sixty-two patients with unilateral dislocation of hip were involved in the study, including 54 females and eight males with a mean age of 21.63 months (range, 18–48 months). The FA, AA and CA were measured and compared between the dislocated hips and the unaffected hips.
Results
Although no significant difference was observed in FA between the dislocated hips and the unaffected hips (
P
 = 0.067, 0.132, respectively) in Tönnis II and III type, FA was obviously increased on the dislocated hips compared with the unaffected hips in Tönnis IV type. Increased AA on the dislocated hips was a universal finding in Tönnis II, III and IV types. Meanwhile, a wide safe range of CA from 24° to 62° was demonstrated on the unaffected hips.
Conclusion
Femoral derotational osteotomy seems not to be necessary in Tönnis II and III types in unilateral DDH. Femoral derotational osteotomy should be considered in DDH, especially in Tönnis IV type, if the CA is still above 62° and the hip joints present instability in operation after abnormal acetabular anteversion, acetabular index and acetabular coverage of the femoral head are recovered to normal range through pelvic osteotomy.