01.12.2017 | Research | Ausgabe 1/2017 Open Access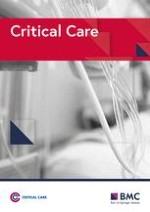 Three-dimensional ultrastructure of capillary endothelial glycocalyx under normal and experimental endotoxemic conditions
Zeitschrift:
Autoren:

Hideshi Okada, Genzou Takemura, Kodai Suzuki, Kazumasa Oda, Chihiro Takada, Yasuaki Hotta, Nagisa Miyazaki, Akiko Tsujimoto, Isamu Muraki, Yoshiaki Ando, Ryogen Zaikokuji, Atsumu Matsumoto, Hiroki Kitagaki, Yuto Tamaoki, Takahiro Usui, Tomoaki Doi, Takahiro Yoshida, Shozo Yoshida, Hiroaki Ushikoshi, Izumi Toyoda, Shinji Ogura
Wichtige Hinweise
Electronic supplementary material
The online version of this article (doi:
10.​1186/​s13054-017-1841-8
) contains supplementary material, which is available to authorized users.
Abbreviations
SEM
Scanning electron microscopy
TEM
Transmission electron microscopy
Background
The sugar-protein glycocalyx coats all healthy vascular endothelium [
1
–
3
] and plays a key role in microvascular and endothelial physiology through its influence on the regulation of microvascular tone and endothelial permeability, maintenance of an oncotic gradient across the endothelial barrier, regulation of adhesion/migration of leukocytes, and inhibition of intravascular thrombosis [
4
–
8
]. Components of glycocalyx include cell-bound proteoglycans, glycosaminoglycan side chains, and sialoproteins [
9
–
11
]. Proteoglycans consist of a core protein, such as a syndecan family protein, to which glycosaminoglycan is linked. Because glycosaminoglycan side chains contain a high density of negative charges, electrostatic repulsion drives albumin away from the vessel wall, toward the center of the lumen [
12
].
Endothelial cell structures are specific for each organ and include at least three types of capillaries: continuous, fenestrated, and sinusoidal [
13
–
15
]. Continuous capillaries are characterized by the presence of an uninterrupted endothelium with a continuous basal lamina. This type is found in muscle tissues, heart, lung, brain, and other organs. Fenestrated capillaries are found in the renal glomeruli and endocrine glands, among other tissues. They are characterized by the presence of circular fenestrae or pores that penetrate the endothelium. Sinusoids are found in the liver and hematopoietic organs such as the bone marrow and the spleen. Sinusoidal capillaries are a special type of open-pore capillary also known as discontinuous capillaries, which have larger openings with diameters of 30–40 μm in the endothelium. Given the structural and functional differences among the endothelium types, one could speculate that the morphology of glycocalyx would also vary among the different types of endothelial cells.
The endothelial glycocalyx has matrix properties and restricts larger macromolecules to the vessel lumen, which called into question the conventional theory that simple filtration is regulated through variable gaps between the cells, as stated in the Starling Principle of transvascular fluid dynamics [
16
]. However, the revised Starling Principle suggests Starling forces are only applied across the endothelial glycocalyx as a molecular sieve for plasma proteins [
17
,
18
]. In fact, the hydraulic permeability rises dramatically when the endothelial glycocalyx is experimentally removed [
19
]. The endothelial glycocalyx is reportedly damaged under stress conditions such as sepsis [
20
]. Diffuse and persistent alterations in the glycocalyx are linked to widespread endothelial dysfunction, altered permeability, and impaired oxygen and nutrient delivery to cells [
8
]. However, there have been few reports directly examining the morphology of the glycocalyx in each capillary type. In the present study, therefore, we investigated the three-dimensional ultrastructure of vascular endothelial glycocalyx in the heart, kidney, and liver under normal and pathological conditions.
Methods
In vivo animal studies
After starvation for 16 h, 10-week-old male mice were intraperitoneally administered lipopolysaccharide (LPS, 20 mg/kg; Sigma-Aldrich, St. Louis, MO, USA). Forty-eight hours after LPS administration, the survival rate was determined. Blood was then collected from the ophthalmic artery, after which the mice were killed, and heart, liver, and kidney specimens were obtained.
Electron microscopy
To detect endothelial glycocalyx using electron microscopy [
21
], mice were anesthetized and perfused with a solution composed of 2% glutaraldehyde, 2% sucrose, 0.1 M sodium cacodylate buffer (pH 7.3), and 2% lanthanum nitrate through a cannula placed in the left ventricle 48 h after LPS administration [
22
]. Before perfusion, an incision was made in the right atrial appendage, and the neck was ligated with a silk suture. In addition, a perfusion pump was used for injection at a steady rate of 1 ml/minute.
Thereafter, the left ventricle, liver, and kidney were harvested and diced. Three or four pieces of approximately 1 mm 3 each were immersed in the perfusion solution for 2 h for fixation and then soaked overnight in a solution without glutaraldehyde before being washed in alkaline (0.03 mol/L NaOH) sucrose (2%) solution. The specimens were then dehydrated through a graded ethanol series.
The frozen fracture method was used to prepare samples for examination using scanning electron microscopy (SEM). Each sample was laid on an iron plate chilled with liquid nitrogen, and ethanol was sprinkled onto it. Once the ethanol was frozen, the sample was fractured using a chisel such that it was not touched directly. The samples were then incubated in
tert
-butyl alcohol at room temperature. After the
tert
-butyl alcohol had solidified, it was freeze-dried, and the specimens were examined using SEM (S-4500; Hitachi, Tokyo, Japan). In addition, for further elemental analysis of each sample, energy-dispersive X-ray spectroscopy was performed under SEM.
To prepare samples for transmission electron microscopy (TEM), each specimen was embedded in epoxy resin. Ultrathin sections (90 nm) stained with uranyl acetate and lead citrate were then examined using TEM (HT-7700; Hitachi). For usual electron microscopy, 2.5% glutaraldehyde in 0.1 mol/L phosphate buffer (pH 7.4) was used instead of perfusion buffer as described above.
Measurement of syndecan-1 in the plasma
Following LPS administration to mice, plasma concentrations of syndecan-1 were measured (
n
 = 5) using an enzyme-linked immunosorbent assay (860.090.192; Diaclone, Besancon Cedex, France).
Quantitative assessments of the endothelial wall thickness
Quantitative assessments of the endothelial wall thickness were performed on six randomly chosen capillary vessels in TEM images using ImageJ software (National Institutes of Health, Bethesda, MD, USA). The average thickness of the endothelial wall was found by measuring at five points of the endothelial capillary wall, except for the nuclear part.
Quantitative assessments of the endothelial glycocalyx area
Quantitative assessments of the endothelial glycocalyx occupation area of the capillary lumen area were performed on six randomly chosen capillary vessels in TEM images using ImageJ software.
Statistical analysis
Values are shown as the mean ± SE. Survival was analyzed using the Kaplan-Meier method with the log-rank Cox-Mantel method. The significance of differences was evaluated using
t
tests.
p
 < 0.05 was considered significant.
Results
Discussion
Conclusions
In the present study, we visualized the three-dimensional ultrastructure of endothelial glycocalyx in healthy continuous, fenestrated, and sinusoidal capillaries, and we also showed their disruption under experimental endotoxemic conditions. The latter may provide a morphological basis for the microvascular endothelial dysfunction associated with septic injury to organs.
Acknowledgements
We thank Toshiko Karimu, Yuki Wakida, and Yasuko Nogaki for technical assistance.
Funding
This study was supported in part by grants-in-aid for scientific research (17 K11569, 16H05497, 16 K20381, 16 K09509 and 15 K10973) from the Ministry of Education, Science and Culture of Japan.
Availability of data and materials
Not applicable.
Authors' information
Not applicable.
Ethical approval and consent to participate
This study confirms to the U.S. National Institutes of Health Guide for the Care and Use of Laboratory Animals and was approved by the institutional animal research committee of Gifu University (Gifu, Japan).
Consent for publication
Not applicable.
Competing interests
The authors declare that they have no competing interests.
Publisher's Note
Springer Nature remains neutral with regard to jurisdictional claims in published maps and institutional affiliations.
Open Access
This article is distributed under the terms of the Creative Commons Attribution 4.0 International License (
http://​creativecommons.​org/​licenses/​by/​4.​0/​
), which permits unrestricted use, distribution, and reproduction in any medium, provided you give appropriate credit to the original author(s) and the source, provide a link to the Creative Commons license, and indicate if changes were made. The Creative Commons Public Domain Dedication waiver (
http://​creativecommons.​org/​publicdomain/​zero/​1.​0/​
) applies to the data made available in this article, unless otherwise stated.