01.12.2016 | Research | Ausgabe 1/2016 Open Access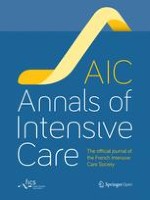 Three-year mortality in 30-day survivors of critical care with acute kidney injury: data from the prospective observational FINNAKI study
Zeitschrift:
Autoren:

Henriikka Mildh, Ville Pettilä, Anna-Maija Korhonen, Sari Karlsson, Tero Ala-Kokko, Matti Reinikainen, Suvi T. Vaara, the FINNAKI Study Group
Wichtige Hinweise
Electronic supplementary material
The online version of this article (doi:
10.​1186/​s13613-016-0218-5
) contains supplementary material, which is available to authorized users.
Abbreviations
AIDS
acquired immune deficiency syndrome
COPD
chronic obstructive pulmonary disease
FINNAKI
Finnish Acute Kidney Injury
GFR
glomerular filtration rate
KDIGO
Kidney Disease: Improving Global Outcomes
MDRD
Modification of Diet in Renal Disease
RIFLE
risk, injury, failure, loss, end-stage renal disease
RRT
renal replacement therapy
SAPS
Simplified Acute Physiology Score
Background
Acute kidney injury (AKI) is a frequently encountered syndrome in the critically ill, with an incidence varying from 15% up to 40% [
1
–
5
]. AKI can markedly increase the severity of acute illness [
5
,
6
] as well as the length of intensive care unit (ICU) and hospital stay [
1
,
2
,
5
,
6
]. Moreover, patients with AKI are susceptible to the later development of chronic kidney disease (CKD) [
4
,
7
].
AKI has been significantly associated with increased short-term mortality [
3
,
4
,
6
,
8
], but results about its impact on increased long-term mortality among initial survivors of AKI and critical illness are few and conflicting. A large cohort study revealed the 1-year mortality of 30-day survivors of AKI defined by RIFLE (risk, injury, failure, loss, end-stage renal disease) creatinine (Cr) criteria to range from 20.5 to 23.8% with increasing severity of AKI, compared to 10.7% of the patients without AKI [
5
]. A 10-year follow-up study among critically ill patients found stage 1 AKI patients to have worse crude survival rate than patients without AKI [
9
]. The difference was significant also among 28-day survivors, but became nonsignificant after adjusting for confounders [
9
]. Additionally, 30-day survivors commenced renal replacement therapy (RRT) did not have worse 3-year outcome compared to their propensity-matched control group of hospitalized patients without AKI [
10
]. Moreover, among all ICU patients, the short-term mortality has been related mostly to the type and severity of acute illness, whereas long-term mortality among initial survivors has been primarily determined by patient age and comorbidities [
11
], which are also well-known predisposing factors for the development of AKI [
1
].
Thus, we hypothesized that critically ill patients with AKI have decreased long-term survival compared to patients without AKI, but that pre-existing comorbidities and advanced age could be explanatory factors. Therefore, in this analysis among 30-day survivors of intensive care, we aimed to determine whether AKI is independently associated with increased 3-year mortality.
Methods
We performed a prospective cohort study in 17 ICUs in Finland between September 1, 2011, and February 1, 2012 [
3
]. The Ethics Committee of the Department of Surgery at Helsinki University Hospital gave approval for the study protocol and the use of deferred consent with written informed consent obtained from the patient or proxy as soon as possible. The Finnish National Institute of Health and Welfare approved collection of data of deceased patients from medical records if an informed consent could not be obtained.
Patients
All adult (>18 years) patients with an emergency admission to the study ICUs of any duration, or an elective admission expecting to last over 24 h, were included to this Finnish Acute Kidney Injury (FINNAKI) study [
3
]. Patients who (1) were on chronic dialysis, (2) were readmitted and had received RRT during their previous admission, (3) were organ donors, (4) had insufficient language skills for giving informed consent or were not permanent Finnish residents, (5) were transferred from another ICU and had already been included for the study data collection period of five days, or (6) who were intermediate care patients were excluded from the study. We followed the 2901 included patients [
3
] until 3 years. For this current analysis, we excluded all 30-day non-survivors (
N
= 548), those who had previously received any organ transplant (
N
= 16) or had acquired immune deficiency syndrome (AIDS) (
N
= 1). As a further explanatory analysis regarding potential survival bias, we present data from the entire FINNAKI cohort (
n
= 2901) without exclusions.
Data collection
We prospectively collected data on previous and present medical status, patient demographics, ICU severity scores, presence of sepsis, possible risk factors for AKI, and existing comorbidities with study-specific case report form and from the database of the Finnish Intensive Care Consortium (Tieto Ltd, Helsinki, Finland). Data regarding ICU treatment were collected until day 5. Finnish Population Register Centre provided the survival data and the Finnish Registry for Kidney Diseases data on need for chronic dialysis at 3 years.
Definitions
We measured plasma Cr concentration daily and urine output hourly and used the Kidney Disease: Improving Global Outcomes (KDIGO) [
1
] criteria to define and stage AKI, using both Cr and urine output criteria. As the baseline Cr, we used the latest value from previous year excluding the previous week. If it was unavailable, we estimated it by using the Modification of Diet in Renal Disease (MDRD) equation assuming a glomerular filtration rate (GFR) of 75 ml/min/1.73 m
2
[
12
]. End-stage renal disease (ESRD) was defined by need for maintenance dialysis at least for three months [
13
]. We defined sepsis according to the American College of Chest Physicians/Society of Critical Care Medicine Consensus Conference [
14
].
Cox model
We used Cox proportional hazards model to adjust for confounders related to survival at 3 years. We tested the validity of the proportional hazards assumption for Cox using the cox.zph method of the R survival package (hhtp://R-project.org) and found it to be valid in all models. We adjusted for gender, type of admission, pre-morbid functional performance, presence of severe sepsis, or comorbidities (arteriosclerosis, chronic obstructive pulmonary disease (COPD), CKD, diabetes mellitus, hypertension, liver failure, malignancy, rheumatoid diseases, systolic heart failure, and thrombophilia), Simplified Acute Physiology Score (SAPS) II points without age and renal components, and use of vasoactive drugs in addition to the presence of AKI. These covariates were chosen based on their distribution between AKI and non-AKI groups. Patients with missing data were assumed not to have the chronic condition. We also performed three sensitivity analyses by excluding (1) patients with CKD, (2) patients with AKI who did not receive RRT, (3) those with an estimated pre-admission Cr, or pre-existing CKD, or AKI stage 1. As a further explanatory analysis, time-stratified Cox models were generated as suggested [
15
].
Matching
As age and comorbidities are risk factors for both AKI [
3
,
6
] and increased long-term mortality [
11
], we performed a matched analysis between AKI and non-AKI patients. We matched patients 1:1 according to (1) age (caliper width ± 5 years), (2) sex, (3) presence of severe sepsis in ICU, and (4) the logit of propensity score for developing AKI (caliper width 0.2 SD) at random and without replacement. The logistic regression model (presented in Additional file
1
: Table S1) used to construct the propensity score for AKI included variables previously reported to be associated with development of AKI [
1
,
3
,
16
] and the outcome as recommended [
17
]. We calculated standardized differences between the matched groups to assess the post-matching balance and considered standardized differences less than 10% indicative of good post-matching balance [
18
].
Statistical analysis
We present continuous data as median with interquartile range (IQR) and categorical data as absolute number and percentage. We used Chi-square test for categorical values and Mann–Whitney
U
test for continuous data in comparisons. We considered two-sided
p
value <0.05 as significant. In the matched sample, we compared categorical data with the McNemar test. We calculated the 95% CI for the difference in the 3-year mortality in the matched groups with Newcombe's method [
19
]. We used SPSS version 23 (SPSS, Armonk, NY, USA) and R (
http://​R-project.​org
) for data analysis.
Results
Discussion
In this follow-up of the prospective, multicenter FINNAKI study, we found that the crude 3-year mortality among 30-day survivors was significantly higher among AKI patients compared to those without AKI. However, after adjusting for confounders known to affect long-term mortality, such as age and pre-existing comorbidities, AKI was not independently associated with decreased survival in the 3-year follow-up. The result was confirmed in a propensity-matched analysis and several sensitivity analyses.
Conclusion
Among critically ill patients surviving over 30 days, AKI was not an independent risk factor for mortality at 3 years. AKI patients had higher crude 3-year mortality than non-AKI patients, but the difference was not robust for adjustments for a number of relevant confounders. Our findings imply that increased long-term mortality at 3 years among patients with AKI who survive critical illness is not related to AKI per se, but rather to advanced age and pre-existing comorbidities.
Authors' contributions
VP and STV conceived the study. VP, AMK, SK, TAK, MR, and the members of the FINNAKI study group collected the data. HM analyzed the data and drafted the manuscript. STV performed the matching analysis. STV and VP helped to interpret the results and write the manuscript. AMK, SK, TAK, and MR critically commented the manuscript. All authors read and approved the final manuscript.
Acknowledgements
We are grateful for all the members of the FINNAKI study group for their work in collecting the patient data and samples.
Some of the results have been previously presented in the form of a conference abstract at the 29th Meeting of the European Society of Intensive Care Medicine.
The FINNAKI study group
:
Central Finland Central Hospital
Raili Laru-Sompa, Anni Pulkkinen, Minna Saarelainen, Mikko Reilama, Sinikka Tolmunen, Ulla Rantalainen, Marja Miettinen.
East Savo Central Hospital
Markku Suvela, Katrine Pesola, Pekka Saastamoinen, Sirpa Kauppinen.
Helsinki University Hospital
Ville Pettilä, Kirsi-Maija Kaukonen, Anna-Maija Korhonen, Sara Nisula, Suvi Vaara, Raili Suojaranta-Ylinen, Leena Mildh, Mikko Haapio, Laura Nurminen, Sari Sutinen, Leena Pettilä, Helinä Laitinen, Heidi Syrjä, Kirsi Henttonen, Elina Lappi, Hillevi Boman.
Jorvi Central Hospital
Tero Varpula, Päivi Porkka, Mirka Sivula, Mira Rahkonen, Anne Tsurkka, Taina Nieminen, Niina Pirttinen.
Kanta
-
Häme Central hospital
Ari Alaspää, Ville Salanto, Hanna Juntunen, Teija Sanisalo.
Kuopio University Hospital
Ilkka Parviainen, Ari Uusaro, Esko Ruokonen, Stepani Bendel, Niina Rissanen, Maarit Lång, Sari Rahikainen, Saija Rissanen, Merja Ahonen, Elina Halonen, Eija Vaskelainen.
Lapland Central Hospital
Meri Poukkanen, Esa Lintula, Sirpa Suominen.
Länsi
-
Pohja Central Hospital
Jorma Heikkinen, Timo Lavander, Kirsi Heinonen, Anne-Mari Juopperi.
Middle Ostrobothnia Central Hospital
Tadeusz Kaminski, Fiia Gäddnäs, Tuija Kuusela, Jane Roiko.
North Karelia Central Hospital
Sari Karlsson, Matti Reinikainen, Tero Surakka, Helena Jyrkönen, Tanja Eiserbeck, Jaana Kallinen.
Oulu University Hospital
Tero Ala-Kokko, Jouko Laurila, Sinikka Sälkiö.
Satakunta Hospital District
Vesa Lund, Päivi Tuominen, Pauliina Perkola, Riikka Tuominen, Marika Hietaranta, Satu Johansson.
South Karelia Central Hospital
Seppo Hovilehto, Anne Kirsi, Pekka Tiainen, Tuija Myllärinen, Pirjo Leino, Anne Toropainen.
Tampere University Hospital
Anne Kuitunen, Jyrki Tenhunen, Ilona Leppänen, Markus Levoranta, Sanna Hoppu, Jukka Sauranen, Atte Kukkurainen, Samuli Kortelainen, Simo Varila.
Turku University Hospital
Outi Inkinen, Niina Koivuviita, Jutta Kotamäki, Anu Laine.
Vaasa Central Hospital
Simo-Pekka Koivisto, Raku Hautamäki, Maria Skinnar.
Competing interests
The authors declare that they have no competing interests.
Availability of data and materials
Dataset available as Additional file
3
: Dataset 1.
Ethics approval and consent to participate
The Operative Ethics Committee of the Helsinki and Uusimaa Hospital District (decision number 18/13/03/02/2010) approved the study protocol and the use of deferred consent with written informed consent obtained from the patient or patient's next of kin as soon as possible. The Finnish National Institute of Health and Welfare approved collection of data from medical records of patients who deceased in the ICU if an informed consent could not be obtained.
Funding
The study has been supported by the Sigrid Juselius Foundation, Päivikki and Sakari Sohlberg Foundation, and Institutional Grants from the Helsinki University Hospital (TYH2013343, TYH2016243).
Open Access
This article is distributed under the terms of the Creative Commons Attribution 4.0 International License (
http://​creativecommons.​org/​licenses/​by/​4.​0/​
), which permits unrestricted use, distribution, and reproduction in any medium, provided you give appropriate credit to the original author(s) and the source, provide a link to the Creative Commons license, and indicate if changes were made.