01.12.2017 | Research article | Ausgabe 1/2017 Open Access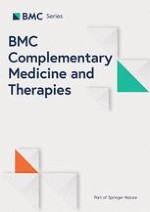 Thymoquinone (TQ) inhibits the replication of intracellular
Mycobacterium tuberculosis

in macrophages and modulates nitric oxide production
Zeitschrift:
Autoren:

Hafij Al Mahmud, Hoonhee Seo, Sukyung Kim, Md Imtiazul Islam, Kung-Woo Nam, Hyun-Deuk Cho, Ho-Yeon Song
Abstract
Background
Human tuberculosis, which is caused by the pathogen
Mycobacterium tuberculosis
, remains a major public health concern. Increasing drug resistance poses a threat of disease resurgence and continues to cause considerable mortality worldwide, which necessitates the development of new drugs with improved efficacy. Thymoquinone (TQ), an essential compound of
Nigella sativa
, was previously reported as an active anti-tuberculosis agent.
Methods
In this study, the effects of TQ on intracellular mycobacterial replication are examined in macrophages. In addition, its effect on mycobacteria-induced NO production and pro-inflammatory responses were investigated in
Mycobacterium tuberculosis
(MTB)-infected Type II human alveolar and human myeloid cell lines.
Results
TQ at concentrations ranging from 12.5 to 25 μg/mL and 6.25 to 12.5 μg/mL reduced intracellular
M. tuberculosis
H37Rv and extensively drug-resistant tuberculosis (XDR-TB) 72 h post-infection in RAW 264.7 cells. TQ treatment also produced a concentration-dependent reduction in nitric oxide production in both H37Rv and XDR-TB infected RAW 264.7 cells. Furthermore, TQ reduced the expression of inducible nitric oxide synthase (iNOS) and pro-inflammatory molecules such as tumor necrosis factor-alpha (TNF-α) and interlukin-6 (IL-6) in H37Rv-infected cells and eventually reduced pathogen-derived stress in host cells.
Conclusions
TQ inhibits intracellular H37Rv and XDR-TB replication and MTB-induced production of NO and pro-inflammatory molecules. Therefore, along with its anti-inflammatory effects, TQ represents a prospective treatment option to combat
Mycobacterium tuberculosis
infection.