01.12.2018 | Primary research | Ausgabe 1/2018 Open Access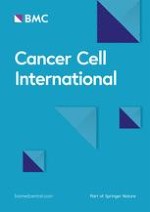 Thyroid stimulating hormone suppression time on cardiac function of patients with differentiated thyroid carcinoma
Zeitschrift:
Autoren:

Ruihua Wang, Liu Yang, Shui Jin, Xingmin Han, Baoping Liu
Abstract
Background
This study was to investigate the influence of thyroid stimulating hormone (TSH) suppression time on the cardiac function of differentiated thyroid carcinoma (DTC) patients.
Methods
105 DTC patients were divided into strict TSH suppression group (model group, TSH ≤ 0.1 mU/L) and general TSH suppression group (control group, TSH > 0.1 mU/L). According to the suppression time, these two groups were respectively divided into three groups: group within half a year, group between half a year and a year and group more than a year. Gated myocardial perfusion imaging was applied to observe differences of left ventricle (LV) myocardial perfusion, LV diastolic and systolic function and LV systolic synchrony in every group.
Results
The left ventricular diastolic function, systolic synchrony and myocardial perfusion level of model group decreased with prolonged suppression time. The values of left ventricular EF, PFR and BPM in patients less than half a year were higher than those in 6 months to 1 year for control group.
Conclusion
Thyroid stimulating hormone suppression can influence the cardiac function of patients and with the prolongation of suppression time, regardless of the level of TSH suppression, the possibility of cardiac function depression in patients will increase. TSH may lower the risk of cardiovascular disease in high-risk patients than those in TSH patients with moderate or low risk. The drugs improving cardiac function should be used cooperatively in different suppression period to decrease the occurrence rate of cardiac adverse reactions.