27.03.2020 | Ausgabe 4/2020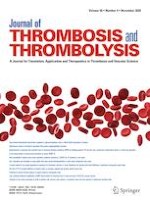 Ticagrelor for the primary prevention of stroke in patients with coronary artery disease: a systematic review and meta-analysis of randomized controlled trials
Zeitschrift:
Autoren:

Qi Kong, Xin Ma, Xiaoxi Zhao, Fei Chen, Chengbei Hou
Wichtige Hinweise
Electronic supplementary material
Publisher's Note
Springer Nature remains neutral with regard to jurisdictional claims in published maps and institutional affiliations.
Abstract
Coronary artery disease (CAD) patients had a higher risk of first-ever stroke than general population even when they were on antiplatelet treatment. It was unknown whether more potent antiplatelet inhibitor ticagrelor which also provided adenosine-mediated protection would improve the primary stroke prevention for CAD. PubMed, Embase, Web of Science and CERNTRAL were searched for randomized clinical trials (RCTs) comparing efficacy and safety outcomes of over 30-day use of ticagrelor versus other antiplatelet drugs or placebo in patients with acute or chronic coronary syndrome. RCTs involving patients with any stroke history were excluded. Based on 5 RCTs with 45,843 patients, ticagrelor-involving regimens significantly reduced first-ever strokes (risk ratio [RR] 0.81; 95% confidential interval [CI] 0.71–0.94; I2 = 0%) in comparison to other antiplatelet regimens in CAD, where the benefits in reducing ischemic strokes (IS) (RR 0.80; 95% CI 0.68–0.94; I2 = 0%) was not canceled out by the increase of intracranial hemorrhage (ICH) (RR 1.41; 95% CI 1.05–1.89; I2 = 0%). According to results of subgroup analyses, the protective effects of ticagrelor on first-ever stroke were more significant with treatment duration of more than 1 year, dosage of 60 mg twice daily, and in clinical settings of chronic coronary syndrome. In conclusion, available evidence from aggregate data supported a modest advantage of ticagrelor-involving regimens for the primary stroke prevention in CAD compared with other antiplatelet regimens after the trade-off between reducing IS and inducing ICH, where more benefits might be expected from long-term and low-dose use of ticagrelor among patients with chronic coronary syndrome. Further collaborative meta-analysis of individual participant data from well-designed and statistically-powered trials would be needed to generate high quality evidence on this issue.