14.02.2020 | Brief Report | Ausgabe 5/2020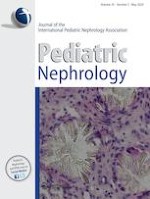 Time to referral to a nephrology clinic for pediatric hypertension
Zeitschrift:
Autoren:

Tyler Hamby, Matthew R. Pueringer, Sahil Noorani, Alisha Khanna, Julie Barrow, Randa Razzouk
Wichtige Hinweise
Electronic supplementary material
Tyler Hamby and Matthew R. Pueringer contributed equally to this work.
Publisher's note
Springer Nature remains neutral with regard to jurisdictional claims in published maps and institutional affiliations.
Abstract
Background
Rates of pediatric hypertension have increased, but adherence to the current diagnostic criteria for hypertension (HTN) in pediatrics is not well known. We investigated the timeline and predictors of time to referral for those referred to nephrology for elevated blood pressure (EBP).
Methods
A retrospective study was conducted on patients, aged 3–18 years, referred to a nephrology clinic for EBP over a 3-year period. Patients were excluded if they were referred previously, were referred for other conditions, or did not have ≥ 1 prior visit with EBP. Analyses were performed to determine whether sex, age, ethnicity, socioeconomic status, and obesity predicted number of prior visits with EBP and time to referral.
Results
There were 120 patients (64% male; 53% obese) included and 82 (68%) had ≥ 3 prior visits with EBP ≥ 95%. Medians were as follows: 15.08 years of age at referral; 5 visits with EBP and 3.45 years from first EBP ≥ 90%; 4 visits with EBP and 1.42 years from third EBP ≥ 95%. No variables significantly predicted number of prior visits with EBP or time to referral from the first EBP. Starting with the third EBP ≥ 95%, only obesity significantly predicted number of prior visits and time to referral: Obese patients had more visits (
p
 = 0.01), and took longer to be referred (
p
 = 0.03) than healthy patients.
Conclusion
Patients with EBP were generally not referred to nephrology promptly, which was especially true for obese patients. Further research is needed to identify interventions to improve time to referral for EBP.