01.12.2018 | Research | Ausgabe 1/2018 Open Access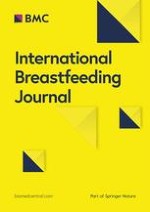 Timely initiation of breastfeeding and associated factors among mothers of infants under 12 months in South Gondar zone, Amhara regional state, Ethiopia; 2013
Zeitschrift:
Autoren:

Liyew Mekonen, Wubareg Seifu, Zemenu Shiferaw
Abstract
Background
Timely initiation of breastfeeding is defined as putting the newborn to the breast within one hour of birth. Significant benefits in reducing neonatal mortality and morbidity can be attained with effective promotion of timely initiation of breastfeeding and exclusive breastfeeding during the first months of life. Therefore, this study was conducted to assess timely initiation of breastfeeding and associated factors among mothers in South Gondar, Amhara regional state, Northern Ethiopia.
Methods
A community based cross-sectional study was employed. A multistage stratified sampling technique was used to select the sample of 845 mothers with 97.4% response rate. Moreover, data were collected by face to face interview using a semi structured questionnaire.
Result
The prevalence of timely initiation of breastfeeding was 48.7% (54.7% in urban and 25.1% in rural areas). The odds of initiation of breastfeeding within one hour was higher for urban mothers (Adjusted Odds Ratio [AOR] 2.1; 95% Confidence Interval [CI] 1.4, 3.3), multiparous mothers (AOR 2.8; 95% CI 2.0, 3.8), mothers who had antenatal care (AOR 3.2; 95% CI 2.0, 5.2), mothers delivered in health institution (AOR 3.1; 95% CI 2.2, 4.6) and mothers delivered vaginally (AOR 4.1; 95% CI 1.7, 9.8) than their respective counterparts.
Conclusion
This study depicts the rate of timely initiation of breastfeeding was low in south Gondar zone. Factors which were positively associated with timely initiation of breastfeeding include urban residence, multiparity, having antenatal care, mother deliver in health institution and vaginal mode of delivery. Therefore, South Gondar health office and healthcare providers have to provide breastfeeding information during antenatal care by giving special emphasis to rural and primiparous mothers in which timely initiation of breastfeeding is poorly practiced. Further study is needed to assess the implementation of policies on timely initiation of breastfeeding.