05.05.2015 | Original Article | Ausgabe 1/2017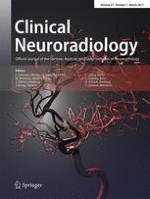 Timing of Mean Transit Time Maximization is Associated with Neurological Outcome After Subarachnoid Hemorrhage
Zeitschrift:
Autoren:

MD J. Caspers, MD C. Rubbert, MD B. Turowski, MD D. Martens, MD D. C. Reichelt, MD R. May, MD J. Aissa, MD D. Hänggi, MD N. Etminan, MD C. Mathys
Abstract
Purpose
Computed tomography perfusion (CTP) has gained significant relevance for the radiological screening of patients at risk of developing delayed cerebral ischemia (DCI) after aneurysmal subarachnoid hemorrhage (aSAH). Particularly, the impact of MTTPEAK, i.e., the maximal mean transit time value in a series of CTP measurements, for the prediction of long-term outcome has recently been demonstrated by our group. Complementing this recent work, the present study investigated how the timing of MTTPEAK affected the long-term outcome after aneurysmal subarachnoid hemorrhage.
Methods
CTP examinations from 103 patients with clinical deterioration attributed to DCI after aSAH were retrospectively analyzed for time interval between SAH ictus and onset of MTTPEAK in association with modified Rankin Scale (mRS) 23.1 months after SAH.
Results
Patients with unfavorable outcome (mRS > = 2) suffered significant earlier MTTPEAK onsets than patients with favorable outcome (mRS = 0 and 1). MTTPEAK within the first week was associated with significantly higher mRS scores compared to later MTTPEAK. Timing of MTTPEAK together with the value of MTTPEAK and initial World Federation of Neurosurgical Societies (WFNS) grade was a significant predictor for an unfavorable outcome (mRS > = 2).
Conclusions
The current findings suggest a presumably higher vulnerability of the brain to early microcirculatory impairments after aSAH and highlight that timing of MTT elevations could be considered for the identification of patients at increased risk for poor neurological outcome due to DCI.