23.06.2018 | Otology | Ausgabe 8/2018 Open Access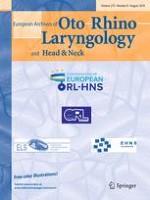 Tinnitus in patients with hearing loss due to mitochondrial DNA pathogenic variants
Zeitschrift:
Autoren:

Urszula Lechowicz, Agnieszka Pollak, Danuta Raj-Koziak, Beata Dziendziel, Piotr Henryk Skarżyński, Henryk Skarżyński, Monika Ołdak
Abstract
Purpose
Tinnitus described as individual perception of phantom sound constitutes a significant medical problem and has become an essential subject of many studies conducted worldwide. In the study, we aimed to examine the prevalence of tinnitus among Polish hearing loss (HL) patients with identified mitochondrial DNA (mtDNA) variants.
Methods
Among the selected group of unrelated HL patients with known mtDNA pathogenic variants, two questionnaires were conducted, i.e. Tinnitus Handicap Inventory translated into Polish (THI-POL) and Visual Analogue Scale (VAS) for measuring subjectively perceived tinnitus loudness, distress, annoyance and possibility of coping with this condition (VASs). Pathogenic mtDNA variants were detected with real-time PCR and sequencing of the whole mtDNA.
Results
This is the first extensive tinnitus characterization using THI-POL and VASs questionnaires in HL patients due to mtDNA variants. We have established the prevalence of tinnitus among the studied group at 23.5%. We found that there are no statistically significant differences in the prevalence of tinnitus and its characteristic features between HL patients with known HL mtDNA variants and the general Polish population. In Polish HL patients with tinnitus, m.7511T>C was significantly more frequent than in patients without tinnitus. We observed that the prevalence of tinnitus is lower in Polish patients with m.1555A>G as compared to other available data.
Conclusions
Our data suggest that the mtDNA variants causative of HL may affect tinnitus development but this effect seems to be ethnic-specific.