01.03.2012 | Rapid Communication | Ausgabe 3/2012 Open Access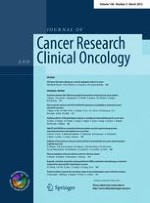 Tipifarnib and tanespimycin show synergic proapoptotic activity in U937 cells
Zeitschrift:
Autoren:

Katarzyna Krzykowska-Petitjean, Jędrzej Małecki, Anna Bentke, Barbara Ostrowska, Piotr Laidler
Wichtige Hinweise
K. Krzykowska-Petitjean and J. Małecki contributed equally to this work.
Abstract
Background
Farnesyltransferase inhibitor tipifarnib (R115777) has been used for treatment of hematological malignancies; however, its observed anticancer effect was limited. This prompted us to search for inhibitors that would show synergic, proapoptotic effect when combined with R115777. We decided to study LY294002, which inhibits PI-3 kinase, and tanespimycin (17AAG), which inhibits Hsp90—a chaperone for a number of proteins, including Akt kinase.
Methods
The effect of drugs, used alone or in combination, was tested in U937 cells (human leukemic monocyte lymphoma), which are often used as a model for liquid tumor. The number of viable cells was evaluated with trypan blue staining, while apoptosis was assessed by presence of active caspase-3 and terminal dUTP nick-end labeling of DNA (TUNEL).
Results
At concentrations in which R115777, LY294002 and 17AAG were only slowing down the proliferation rate, when used separately, the combination of R115777 + LY294002 and R115777 + 17AAG significantly reduced the number of cells and induced cellular apoptosis.
Conclusions
Our results suggest that the combination of R115777 + 17AAG could be useful in treating some of the hematological malignancies.