01.12.2008 | Review | Ausgabe 1/2008 Open Access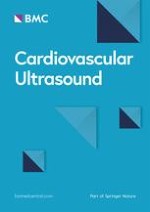 Tissue Doppler and strain imaging: anything left in the echo-lab?
Zeitschrift:
Autoren:

Rodolfo Citro, Eduardo Bossone, Bettina Kuersten, Giovanni Gregorio, Alessandro Salustri
Wichtige Hinweise
Electronic supplementary material
The online version of this article (doi:
10.​1186/​1476-7120-6-54
) contains supplementary material, which is available to authorized users.
Competing interests
The authors declare that they have no competing interests.
Authors' contributions
RC wrote the paper, EB drafted the manuscript, BK translated into English, GG participated in designe of the article, AS wrote and reviewed the article and participated in its designe. All authors read and approved the final manuscript.
Background
In the past decade, numerous studies have been published addressing the feasibility and potential clinical applicability of tissue Doppler imaging (TDI) and its derived parameters strain and strain rate (SR) [
1
–
7
] (Figure
1
). The data reported in these studies strongly support that the different methods are attractive in regards to their underlying theory as well as for the information revealed about cardiac function, that can be obtained by analyzing the motion of the diverse structural components of the heart (myocardial walls, valvular rings); at the same time all these methods strive to
eliminate everything subjective
in the assessment of an echocardiogram. Thus, a large volume of scientific evidence has been produced in favor of clinical use of these methods and various parameters have been proposed with the ambitious goal to contribute towards additional diagnostic value with respect to various pathologies. [
8
]. Despite this promising research, the parallel clinical diffusion of these methods never took place. To this day these methods are used only in a few centers and mainly in conjunction with research protocols; why have these published data not led to wider application in practice? Is this skepticism justified? Is the information obtained by TDI or SR 'redundant'? Do solid fields of clinical applications supported by these data already exist today or will they exist in the near future? In order to answer these questions, this review will first assess the various aspects of this technology from the physical principles to the technological implementation and then compile the information.
×
Physical principles
TDI, through proper modifications of the hardware and software of the ultrasound platform (elimination of the
high-pass filter
and adjustment of
gain
) allows the analysis of velocity signals having high amplitude and low frequency originating from tissue, which are usually not detected in traditional Doppler examination. In its various modalities (pulsed Doppler, 2D color mode and color M-mode), TDI renders possible
on-line
or
off-line
, the non invasive calculation of the time intervals and velocities of myocardial contraction and relaxation during the various phases of the cardiac cycle by using post-processing application software. (Figure
2
). One of the primary reasons for the skepticism towards TDI lies in its very physical principles. Doppler echocardiography seems to be the ideal method for the examination of intracardiac and vascular flow that obey the laws of fluid dynamics and for the calculation of pressure gradients comparable to those obtained by invasive methods like cardiac catheterization. [
8
]. However, the motion of the myocardial walls is different, occurring in more directions and planes, and is influenced by the motion of the other organs and structures of the thoracic cage, following complex mechanical phenomena often not completely understood and for which there exists no reference method [
10
]. This problem is particularly evident when quantitative analysis of the myocardial function using TDI is applied to the study of segmental contraction abnormalities typical of ischemic cardiopathy.
×
In fact, if on one hand TDI has the merit of having brought back to mind very old concepts of physiopathology of the ischemic heart muscle, focusing the attention back on regional contraction phenomena, such as the delayed and reduced systolic shortening and the appearance of late systolic contraction, on the other hand, one must keep in mind that the measurement of regional myocardial velocities is not independent from the overall motion of the heart and suffers from tethering induced by collateral segments [
3
]. These limitations could potentially be overcome by strain imaging, which introduced the concept of myocardial deformation as a sensitive index of contractile capacity intrinsic to the myocardium [
11
] (Figure
3
). However, strain is derived from the myocardial velocity gradient measured with TDI, from which the relative limitations in terms of angle-dependency are derived. Furthermore, the signal is strongly subjected to tedious noise problems (especially in the apical regions) which change the profiles of the spectral curve, making interpretation difficult, hardly reproducible and particularly arduous to reach interpretational consensus on, especially in the SR modality [
4
–
6
].
×
Two dimensional strain (2D strain)
, the most recent technique, has lately been proposed for obtaining velocities and deformation of the myocardial walls as an alternative to Doppler sampling. This method is based on the estimation of vectorial velocities instead of the analysis of the long component along the lines of the image. The algorithm identifies the vectorial velocities by 'tracking' the data obtained by the analysis of radiofrequency and black/white signals [
12
]. For every pixel of the image an angle-independent velocity is being estimated by selecting a pattern around the pixel examined, which is followed in the various frames, comprising the time period under examination. For those characteristics 2D strain could overcome the present limits (angle dependency and sampling in the apical segments) of the strain obtained by using the Doppler data (Figure
4
).
×
Reference methods
Thanks to its high temporal resolution, TDI and the methods derived from it analyze phenomena that happen in such short time periods, to elude the resolution of the human eye and could not be considered during a traditional echocardiographic evaluation [
3
,
6
]. These phenomena inherent to myocardial contractility have been addressed with methods commonly used in experimental studies, like sonomicrometric techniques, which are not reproducible in a clinical setting and for this reason cannot be defined as 'reference' methods. Consequently, the real problem consists in the lack of a definition of myocardial contractility and of a 'gold standard' that identifies it. The strain imaging technique should be used to fill this very knowledge gap.
Technological problems
Up to now, studies conducted "in vivo" have been undertaken on a few selected patients admitted at highly specialized centers, using specific software not always widely accessible. Furthermore, companies producing ultrasound machines have not developed their products in comparable manners for reasons related to commercialization or research. As a result, at the present time, not all machines are able to produce the same parameters with the same modality. Each company was kept busy by developing its own software, then offering it prematurely and neglecting to consider whether it would turn into a commercial gadget or a truly useful tool. In addition, only recently attempts were made to standardize the nomenclature and the parameters. Presently, no agreement has been reached on the modalities of temporal analysis, on how to identify the various waves of TDI or strain curves, or on how to perform the measurements (positioning of the sample volume, size and form of the region of interest for the acquisition of the raw data). All of these issues are in part responsible for the difficulty of this method to enter "the real world".
Contemporary applications
Systolic velocity can be reduced in those parts of the mitral ring corresponding to walls with regional wall motion abnormalities. In those cases it is preferable to calculate a medium of the values obtained in at least 4 regions of the mitral ring;
The indices of longitudinal left ventricular dysfunction do not correlate linearly with the conventional indices like LVEF, because they depend on other factors such as ventricular volumes, wall thickness and cardiac rhythm;
The analysis of the mitral annulus is affected by the anatomical and functional status of the left atrium as well as by the annulus itself (calcification, valvular prosthesis etc...);
Even in the presence of a normal LVEF the longitudinal systolic function decreases with age.
Future applications
a) It is undeniable that the potential development of TDI indices correlated to
right ventricular function
is being closely followed. This is because of the intrinsic limitations of standard echocardiography which does not allow for an examination of a heart chamber with such complex anatomy as that of the right ventricle. The problem becomes more evident in some patient categories, such as obese patients, those with chronic bronchopneumopathy or those patients in intensive care, for which for various reasons the acoustic window is suboptimal. In these cases it would be useful to have on hand "objective" parameters relatively independent of image quality. PW tissue Doppler seems to have this potential more than other methods; in fact a direct relationship between isovolumetric relaxation time and systolic pulmonic arterial pressure has been observed. However, in this case broader studies are needed to verify which indices can be used and in which patient categories [
50
–
54
]. In experimental studies, myocardial acceleration during isovolumetric contraction has been shown to be a load-independent parameter that correlates with telesystolic elasticity of the right ventricle, and if this is verified in clinical practice, it could become a useful and interesting parameter to measure right ventricular systolic function [
55
].
b) TDI and strain Doppler can catch preclinical signs of prevalently
diastolic myocardial dyfunction
in various cardiac pathologies, like hypertensive cardiopathy [
56
], diabetic cardiomyopathy [
57
], and secondary cardiopathies caused by neurological diseases like Friedreich's ataxy [
6
]. The distinction between pathological and physiological myocardial hypertrophy is of considerable clinical relevance, as well as the early identification of patients genetically predisposed to hypertrophic cardiomyopathy before the appearance of the very hypertrophy itself [
58
]. The use of TDI permits to reveal signs of early systolic dysfunction, present when conventional indices of systolic function are still normal, as in diverse conditions like amyloidosis [
50
], thalassemia major [
60
], Fabry cardiomyopathy [
61
], Chagas disease [
62
] and other rare pathologies. Besides, in Fabry's disease an improvement of peak systolic strain and SR after enzymatic substitution therapy has been documented [
63
].
c) Additionally, TDI and strain methods have been applied in the study of
atrial mechanical function
. Strain indices have been shown to be capable of identifying those patients with higher probability to maintain sinus rhythm after electrical cardioversion of atrial fibrillation [
64
]. These data seem promising because they can be applied to a wide population of patients with cardiopathies, a population with atrial fibrillation, taking in consideration recurring relapses (administration of antiarrythimic drugs and duration of therapy, anticoagulants).
What will the future echocardiography laboratory look like?
For the purpose of establishing the measuring parameters and the best modalities of acquisition, it will be necessary on the one hand to plan prospective trials directed at testing the feasibility and reproducibility of specific protocols in defined clinical settings and on the other hand to confront these echocardiographic parameters with other methods (like nuclear magnetic resonance) capable of analyzing the same phenomena with different physical principles and modalities [
14
]. This kind of effort will be fundamental to increase the type and number of clinical conditions in which these methods can pass from potentially useful to certainly useful (Tab.
2
), accomplishing the leap in quality from being an "industrial gadget" to being a validated diagnostic "tool". In the meantime it would be desirable for cardiologists to be open minded towards possible clinical applications of the "new technologies" of echocardiography. Echocardiography gained its renown by becoming the "battle horse" of the clinical cardiologist thanks to its widespread availability (favored by portable echo devices) and most of all by the immediateness of the morphological and functional information, which enables the experienced echocardiographer to make diagnostic judgments and prognostic predictions within minutes. To apply all this with optimal efficacy it will be necessary to structure the echocardiography laboratory in two distinctive procedural phases: A first phase dedicated to the mere acquisition of the images (possibly performed by echocardiography technicians or sonographers), and a second phase which does not require the patient's presence during which the images are analyzed to obtain all the necessary information, utilizing specialized software. Tedious off-line analysis, however, could lead cardiologists staying long periods of time in the "digital" echo lab with a corresponding drastic extension of time dedicated to each exam and the inevitable impairment of the productivity of medical doctors and their laboratories. It is therefore necessary, for the companies to focus their efforts on developing software capable of improving the definition of spectral curves linked to semi-automated analysis systems so as to render the acquisition and interpretation of the data rapid and reliable. A faster application time of the method would render it more "user friendly" promoting didactics and its definite implementation. Finally, as the Americas are no longer known as the "new world", the time will come when tissue Doppler and strain technologies will rid themselves of the limiting label "new technologies" to become familiar "partners" in our everyday cardiological diagnostic activity.
Table 2
Clinical applications of tissue Doppler and strain
| Parameters | Information | Clinical condition | TDI | Strain | SR |
| --- | --- | --- | --- | --- | --- |
| Basal systolic peak | Global longitudinal systolic function | Aspecific | | | |
| Systolic time-to-peak | Mechanical dyssynchronicity | Cardiomyopathy | | | |
| Systolic peak | Right ventricular systolic function | Heart failure | | | |
| Systolic peak and/or protodiastolic peak | Regional systolic function at rest | Ischemic Cardiopathy | | | |
| Systolic peak and/or protodiastolic peak | Regional systolic function during stress | Ischemic Cardiopathy | | | |
| Systolic peak | Preclinical cardiac involvement | Infiltrative Cardiomyopathy | | | |
| Systolic peak | Monitoring of therapeutic effect | Infiltrative Cardiomyopathy | | | |
| Protodiastolic peak | Ventricular filling pressures | Aspecific | | | |
| Protodiastolic peak | Prognostic indicator | Arterial Hypertension | | | |
| Protodiastolic peak | Distinction between constriction and restriction | Heart failure | | | |
| Protodiastolic peak | Identification of pathological hypertrophy | Ventricular Hypertrophy | | | |
| Atrial systolic peak | Prediction of response to cardioversion | Atrial Fibrillation | | | |
Acknowledgements
The authors give special thanks to Dr. Paolo Trambaiolo for his invaluable suggestions and for his critical ideas.
This article is published under license to BioMed Central Ltd. This is an Open Access article distributed under the terms of the Creative Commons Attribution License (
http://​creativecommons.​org/​licenses/​by/​2.​0
), which permits unrestricted use, distribution, and reproduction in any medium, provided the original work is properly cited.
Competing interests
The authors declare that they have no competing interests.
Authors' contributions
RC wrote the paper, EB drafted the manuscript, BK translated into English, GG participated in designe of the article, AS wrote and reviewed the article and participated in its designe. All authors read and approved the final manuscript.