01.12.2014 | Research article | Ausgabe 1/2014 Open Access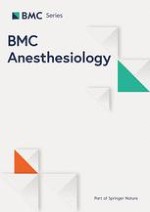 Tissue ischemia microdialysis assessments following severe traumatic haemorrhagic shock: lactate/pyruvate ratio as a new resuscitation end point?
Zeitschrift:
Autoren:

Filip Burša, Leopold Pleva, Jan Máca, Peter Sklienka, Pavel Ševčík
Wichtige Hinweise
Electronic supplementary material
The online version of this article (doi:
10.​1186/​1471-2253-14-118
) contains supplementary material, which is available to authorized users.
Competing interests
First two authors are funded by the Internal Grant Agency of the Ministry of Health of the Czech Republic. The authors declare no other competing interests.
Authors' contributions
FB - conception and design, data collection and analysis, manuscript writing and final approval of the manuscript. LP - conception and design, financial support, final approval of manuscript. JM - data analysis, critical revision and final approval of the manuscript. PS - data analysis, critical revision and final approval of the manuscript. PŠ - critical revision and final approval of the manuscript. All authors have substatially contributed to the conception and design of the study, read and then approved the final manuscript.
Abstract
Background
Intensive care of severe trauma patients focuses on the treatment of haemorrhagic shock. Tissues should be perfused sufficiently with blood and with sufficient oxygen content to ensure adequate tissue oxygen delivery. Tissue metabolism can be monitored by microdialysis, and the lactate/pyruvate ratio (LPR) may be used as a tissue ischemia marker. The aim of this study was to determine the adequate cardiac output and haemoglobin levels that avoid tissue ischemia.
Methods
Adult patients with serious traumatic haemorrhagic shock were enrolled in this prospective observational study. The primary observed parameters included haemoglobin, cardiac output, central venous saturation, arterial lactate and the tissue lactate/pyruvate ratio.
Results
Forty-eight patients were analysed. The average age of the patients was 39.8 ± 16.7, and the average ISS was 43.4 ± 12.2. Hb < 70 g/l was associated with pathologic arterial lactate, ScvO2 and LPR. Tissue ischemia (i.e., LPR over 25) developed when CI ≤ 3.2 l/min/m2 and Hb between 70 and 90 g/l were observed. Severe tissue ischemia events were recorded when the Hb dropped below 70 g/l and CI was 3.2-4.8 l/min/m2. CI ≥ 4.8 l/min/m2 was not found to be connected with tissue ischemia, even when Hb ≤ 70 g/l.
Conclusion
LPR could be a useful marker to manage traumatic haemorrhagic shock therapies. In initial traumatic haemorrhagic shock treatments, it may be better to maintain CI ≥ 3.2 l/min/m2 and Hb ≥ 70 g/l to avoid tissue ischemia. LPR could also be a useful transfusion trigger when it may demonstrate ischemia onset due to low local DO2 and early reveal low/no tissue perfusion.