01.06.2014 | Original Paper | Ausgabe 6/2014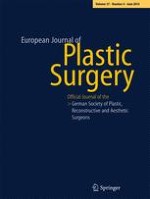 Titanium-coated polypropylene mesh (TiLoop Bra®)—an effective prevention for capsular contracture?
Zeitschrift:
Autoren:

Philipp A. Bergmann, Benedikt Becker, Karl L. Mauss, Maria E. Liodaki, Johannes Knobloch, Peter Mailänder, Frank Siemers
Abstract
Background
Silicone implants have been used in breast augmentation for more than 45 years. Complications, in particular, capsular contracture, still occur with a high incidence. Titanium-coated polypropylene mesh (TCPM; TiLoop Bra®, pfm medical, Cologne, Germany) provides new opportunities for implant-based breast reconstruction. We investigated the influence of the surface of silicone implants on the formation of capsular contracture by comparing textured silicone with TCPM-covered smooth silicone implants.
Methods
Twenty textured silicone gel-filled (group A) and twenty TCPM-covered smooth silicone gel implants (group B) (Silimed®, Rio de Janeiro, Brazil) were implanted in female Wistar rats. After 60 days, the implants and capsules were extracted, and histological and immunohistochemical staining was performed. The double-blind evaluation of the capsules was performed by two examiners.
Results
We were able to detect a thinner, but stiffer, capsule and a less development of an inner synovia metaplasia layer as well as a lower vascularity in capsules around TCPM-covered silicone implants. We found a higher percentage of myofibroblasts within the capsule structure and more inflammatory cell infiltration.
Conclusions
The quality of capsule structure around both tested implants differs significantly. Although capsules around TCPM-covered implants presented were thinner, they integrated with the mesh in a rigid cage structure capsule with higher infiltration of inflammatory cells caused by a significant foreign body reaction. TCPM-covered silicone implants showed no apparent advantage in the reduction of capsular contracture. On the other hand, the indication for using this material as a supportive soft tissue structure can be confirmed.
Level of Evidence: not ratable, experimental study.