01.12.2017 | Research article | Ausgabe 1/2017 Open Access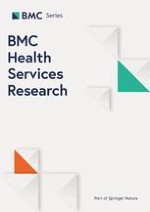 The level of nurses' knowledge on occupational post exposure to hepatitis B infection in the Tamale metropolis, Ghana
Zeitschrift:
Autoren:

Kennedy Diema Konlan, Millicent Aarah-Bapuah, Joseph M. Kombat, Gifty Mary Wuffele
Abstract
Background
Health care workers especially nurses in developing countries are at serious risk for infection from blood-borne pathogens particularly hepatitis B virus (HBV) — because of the high prevalence of such pathogens in many poorer regions of the world. Employers are required to establish exposure-control plans that include post exposure follow-up for their employees and to comply with incident reporting requirements.
This study assessed the level of knowledge and awareness of nurses in the Tamale Metropolis of Ghana on occupational post exposure measures to hepatitis B, and their risk of being infected. Hepatitis B vaccination status of nurses was also assessed.
Methods
A cross-sectional study was conducted involving 108 nurses of varied categories who were selected by simple random sampling from west and central hospitals in the Tamale Metropolis of Ghana. Data was collected using a semi-structured questionnaire. SPSS version 16 was used for the analysis of data.
Results
Ninety-four percent (94.4%) of the nurses considered themselves susceptible to occupational infection of HBV. About 23.4% were able to mention all the key elements of the post exposure management with 12.1% having adequate knowledge on post exposure prophylactic treatment against HBV. However, only 48 (44.4%) nurses have received hepatitis B vaccination. Thirty-six (75%) of those immunized had received three doses as required while the remaining had less than 3 doses. Some (38.9%) recap used needles before disposal and 30.2% do not decontaminate blood and body fluids before disposal.
Conclusion
Nurses are aware of their risk of occupational exposure to hepatitis B but lack the requisite knowledge on post exposure management as well as measures that reduce the exposure. Nurses should familiarize with the principles of post exposure management as part of job orientation and on-going job training. Also, there is a need for a national policy on occupational safety and health which should include HB vaccination of health care workers as a requirement for appointment into the health service.