01.12.2017 | Research article | Ausgabe 1/2017 Open Access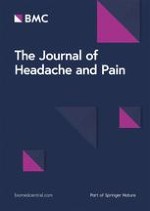 Topical dura mater application of CFA induces enhanced expression of c-fos and glutamate in rat trigeminal nucleus caudalis: attenuated by KYNA derivate (SZR72)
Zeitschrift:
Autoren:

M. Lukács, K. Warfvinge, J. Tajti, F. Fülöp, J. Toldi, L. Vécsei, L. Edvinsson
Abstract
Background
Migraine is a debilitating neurological disorder where trigeminovascular activation plays a key role. We have previously reported that local application of Complete Freund's Adjuvant (CFA) onto the dura mater caused activation in rat trigeminal ganglion (TG) which was abolished by a systemic administration of kynurenic acid (KYNA) derivate (SZR72). Here, we hypothesize that this activation may extend to the trigeminal complex in the brainstem and is attenuated by treatment with SZR72.
Methods
Activation in the trigeminal nucleus caudalis (TNC) and the trigeminal tract (Sp5) was achieved by application of CFA onto the dural parietal surface. SZR72 was given intraperitoneally (i.p.), one dose prior CFA deposition and repeatedly daily for 7 days. Immunohistochemical studies were performed for mapping glutamate, c-fos, PACAP, substance P, IL-6, IL-1β and TNFα in the TNC/Sp5 and other regions of the brainstem and at the C1-C2 regions of the spinal cord.
Results
We found that CFA increased c-fos and glutamate immunoreactivity in TNC and C1-C2 neurons. This effect was mitigated by SZR72. PACAP positive fibers were detected in the fasciculus cuneatus and gracilis. Substance P, TNFα, IL-6 and IL-1β immunopositivity were detected in fibers of Sp5 and neither of these molecules showed any change in immunoreactivity following CFA administration.
Conclusion
This is the first study demonstrating that dural application of CFA increases the expression of c-fos and glutamate in TNC neurons. Treatment with the KYNA analogue prevented this expression.