Erschienen in: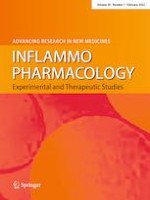 13.01.2022 | Original Article
Topical phenytoin administration accelerates the healing of acetic acid-induced colitis in rats: evaluation of transforming growth factor-beta, platelet-derived growth factor, and vascular endothelial growth factor
Erschienen in: Inflammopharmacology | Ausgabe 1/2022
Einloggen, um Zugang zu erhalten
Abstract
Ulcerative colitis (UC), limited to the colon's innermost lining, has become a global health problem. Immunomodulatory and monoclonal antibodies are used to treat UC despite their side effects and limitations. Phenytoin is used to heal wounds owing to its effects on growth factors, collagen, and extracellular matrix synthesis. This study aimed to evaluate the effect of topical phenytoin administration in UC. Phenytoin was administered in two doses during the treatment. Eighty male Wistar rats (230–280 g) were divided randomly into ten groups of sham, control, hydrocortisone, phenytoin 1%, and 3% groups in 6- or 12-day treatment protocols. The UC model was induced by the administration of acetic acid 4% into the colon. Animals were killed on the 7th and 13th postoperative days. The main outcome measures included body weight loss, microscopic score, and ulcer index measured using specific criteria. Growth factors were measured by western blotting. Results illustrated that body weight loss was reversed in the treatment groups. Ulcer index had decreased on 6- and 12-day treatment protocols. Microscopic scores in 6-day enema treatment significantly decreased compared to the control groups. Transforming growth factor-beta (TGFβ) significantly increased in a time-dependent manner and platelet-derived growth factor (PDGF) and vascular endothelial growth factor (VEGF) significantly increased in a time- and dose-dependent manner in phenytoin 1% and 3% in the 6- and 12-day protocols. Phenytoin dose- and time-dependently reversed weight loss. In addition, histopathological parameters included microscopic scores, and the ulcer index was decreased through the induction of growth factors TGFβ, PDGF, and VEGF and consequently accelerated ulcer healing.