01.12.2018 | Case report | Ausgabe 1/2018 Open Access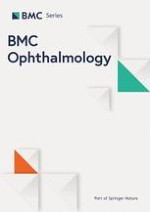 Toric IOL implantation in a patient with keratoconus and previous penetrating keratoplasty: a case report and review of literature
Zeitschrift:
Autoren:

Karin Allard, Madeleine Zetterberg
Abstract
Background
Cataract surgery in patients with keratoconus with or without previous penetrating keratoplasty (PKP) can be demanding due to difficulties in selecting the intraocular lens (IOL) and predicting the refractive outcome. We report a case of cataract surgery in a patient with keratoconus and previous PKP in one eye.
Case presentation
A 71-year-old man with bilateral cataract and advanced bilateral keratoconus and previous PKP in the left eye. Preoperatively, best corrected visual acuity (BCVA) was 20/150, with − 5.75 sph − 9.75 cyl 72°, in the right eye and 20/40, with − 0.25 sph − 5.0 cyl 50°, in the left eye. The patient was subjected to phacoemulsification with implantation of a spherical IOL in the right eye and a toric IOL in the left eye. BCVA postoperatively was 20/80 with + 1.25 sph − 3 cyl 65° in the right eye and 20/25 with − 0.5 sph − 3.25 cyl 80° in the left eye.
Conclusions
Correction of post-PKP astigmatism and cataract with phacoemulsification and implantation of a toric IOL can be an effective and safe choice. Predicting the refractive outcome in cataract surgery is difficult in patients with advanced keratoconus even when using non-toric IOLs, and the surgeon should be aware of different sources of biometric errors and the possible consequences.