14.04.2021 | Original Article | Ausgabe 8/2021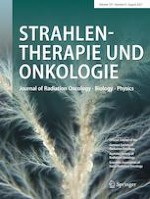 Total body irradiation of bone marrow transplant using helical TomoTherapy with a focus on the quality of dose contribution at junction target volumes
Zeitschrift:
Autoren:

Ph.D. N. V. N. Madhusudhana Sresty, MD Deleep Gudipudi, MD A. Krishnam Raju, Ph.D. T. Anil kumar, M.Sc.,Dip.R.P. V. R. P. Lakshmi, M.Sc.,Dip.R.P. G. Srikanth, M.Sc.,Dip.R.P. M. Narasimha
Abstract
Purpose
Total body irradiation (TBI) can be safely delivered on TomoTherapy (Accuray, Sunnyvale, CA, USA) in both pediatric and adult patients with proper imaging and planning despite the length constraint of 135 cm. To overcome this limitation, two CT (Computed Tomography) scans (CT1& CT2) are taken in patients above 135 cm in height. Adequate junction dose coverage is important in TBI. Presently, there is no clinical report with a focus on the quality of dose distribution at the CT junction in view of the guidelines on quality of coverage from the RTOG. Hence, our main objectives were to evaluate the dose distribution and quality of coverage at the junction in 16 patients who received TBI using TomoTherapy.
Methods
PTV(upper) and PTV(lower) along with a junction were created on CT1 and CT2, respectively. Subsequently, the 10 cm junction in the thigh region was divided into five target volumes of 2 cm thickness with dose prescription ranging from 10 to 90% to deliver a total dose equal to 100% when fused.
Results
The D50 was equal to the prescribed dose in most of the cases ranging from 99.5 to 104% for PTV(upper), 100–103% for PTV(lower), and 99.5–108% for junctional PTVs (1PTV, 2PTV, 3PTV, 4PTV, and 5PTV). The average D95 doses from PTV(upper) and PTV(lower) were 97 ± 1.4% and 96.7 ± 1.08%, respectively. The average D95 doses for 1PTV, 2PTV, 3PTV, 4PTV, and 5PTV were 96.1 ± 1.88%, 91.6 ± 1.82%, 87.3 ± 1.5%, 91.6 ± 1.4%, and 96.2 ± 1.5% respectively. QRTOG values ranged between 0.85 and 1.05 and were in concordance with RTOG guidelines.
Conclusion
Since junction-based planning was required for most TBI patients, it is essential to evaluate the quality of dose coverage in the junction for better TBI plans.