01.12.2014 | Original Article | Ausgabe 6/2014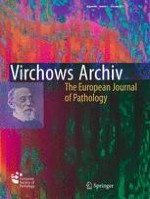 Total burden of intraplaque hemorrhage in coronary arteries relates to the use of coumarin-type anticoagulants but not platelet aggregation inhibitors
Zeitschrift:
Autoren:

Xiaofei Li, Aryan Vink, Hans W. M. Niessen, Jesper Kers, Onno J. de Boer, Hanneke J. P. Ploegmakers, Jan G. P. Tijssen, Robbert J. de Winter, Allard C. van der Wal
Abstract
Intraplaque hemorrhage (IPH) is a crucial factor in progression and destabilization of an atherosclerotic plaque. Anti-thromboembolic drugs are widely used as prophylactic treatment against arterial and venous thrombotic diseases, but a major complication is bleeding. We investigated the association between exposure to anti-thromboembolic therapy and IPH in postmortem coronary arteries. Coronary arteries with postmortem angiographically confirmed extensive atherosclerosis were obtained at autopsy from patients who had received oral anticoagulants (
n
 = 10), platelet aggregation inhibitors (
n
 = 10), or no anti-thrombotic drugs (
n
 = 10) before death. Coronary arteries were cut at 3-mm interval, and all plaque-containing segments were immunohistochemically screened for IPH and microvessels. These data were related to overall plaque composition and the use of anti-thromboembolic therapies. IPH was found in 483 out of 904 (53 %) coronary segments with advanced atherosclerotic plaques and more frequently in patients on oral anticoagulants (174/284, 61 %) than in patients on anti-platelets (198/376, 53 %) or without therapy (111/244, 46 %) (
P
 = 0.02 and
P
 = 0.001, respectively). Also, intraplaque microvascular leakage was more frequently observed in patients on anticoagulants than in non-treated patients (
P
 = 0.03). Finally, the IPH appeared to be larger in plaques of patients on anticoagulant treatment (
P
 < 0.001). Density of intraplaque microvessels was highest in plaques of patients on platelet inhibitors (
P
 < 0.05), but this was not associated with increased hemorrhagic burden. Prophylactic therapy with oral coumarin-type anticoagulants appears to be associated with a higher hemorrhagic burden in atherosclerotic coronary arteries, which may lead to increase in plaque volume over time, in this selected subgroup of patients.