01.12.2016 | Research article | Ausgabe 1/2016 Open Access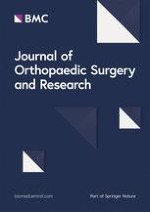 Total knee arthroplasty using NexGen LPS-flex® improves clinical outcomes without early loosening: minimum 6-year follow-up results
Zeitschrift:
Autoren:

Yoon Sang Jeon, Joong Sup Shin, Jae Ho Jung, Myung Ku Kim
Abstract
Background
The authors analyzed clinical and radiological 6-year follow-up results after total knee arthroplasty (TKA) with NexGen LPS-flex® and implant survivorship.
Methods
The medical records of 80 patients that underwent 122 TKAs using NexGen LPS-flex® from February 2005 to November 2008 and followed up for at least 6 years were reviewed. The Internal Knee Documentation Committee (IKDC) subjective form, Western Ontario and McMaster Universities Arthritis Index (WOMAC), and Knee Injury and Osteoarthritis Outcome Score (KOOS) scores and preoperative and postoperative ranges of motion (ROMs) were recorded. Radiological assessments were performed by simple radiography preoperatively, immediately postoperatively, and at the final follow-up.
Results
At the last follow-up visits, average ROM improved from 115.0° (80°–135°) to 131.76° (80°–150°), average IKDC subjective score from 30.54 (13–48) to 53.53 (31–80), average WOMAC score from 59.81 (35–90) to 15.98 (1–47), and average KOOS score from 75.33 (38–115) to 115.0 (52–174). The clinical results of 66 knees that had >130° of postoperative flexion and 56 knees that had <130 of postoperative flexion were compared. Radiolucent lines were found in 7 knees in those with a flexion angle of >130° and in 6 knees in those with a flexion angle of <130°, but the lines did not progress and meaningful loosening was not observed. Similarly, the occurrences of radiolucent lines in those with a flexion angle of >130° or <130° were not significantly different (
p
 > 0.05).
Conclusions
TKA with NexGen LPS-flex® showed satisfactory clinical improvements, including high flexion, and no early loosening was found at 6-year follow-up visits.