01.12.2015 | Research article | Ausgabe 1/2015 Open Access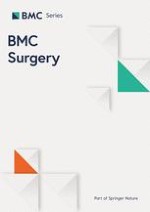 Total thyroidectomy as a method of choice in the treatment of Graves' disease - analysis of 1432 patients
Zeitschrift:
Autoren:

Toplica Bojic, Ivan Paunovic, Aleksandar Diklic, Vladan Zivaljevic, Goran Zoric, Nevena Kalezic, Vera Sabljak, Nikola Slijepcevic, Katarina Tausanovic, Nebojsa Djordjevic, Dragana Budjevac, Lidija Djordjevic, Aleksandar Karanikolic
Wichtige Hinweise
Ivan Paunovic, Aleksandar Diklic and Vladan Zivaljevic contributed equally to this work.
Competing interests
The authors declare that they have no competing interests.
Authors' contributions
All authors participated to the design of the study and the interpretation of data. VZ conceived of the study and drafted the manuscript. TB, KT and GZ performed the data analysis of the manuscript. NK, VS, ND, DB, LD and AK contributed by extended revision of data. NS performed the language revision of the manuscript. TB and NS prepared the manuscript by the instructions for authors for submission to BMC Surgery. IP, AD and VZ critically revised the manuscript and have approved the final version. All authors read and approved the final manuscript. All authors contributed by their own resources and time, thus eliminating necessity of additional funding.
Abstract
Background
Graves' disease represents an autoimmune disease of the thyroid gland where surgery has an important role in its treatment. The aim of our paper was to analyze the results of surgical treatment, the frequency of microcarcinoma and carcinoma, as well as to compare surgical complications in relation to the various types of operations performed for Graves' disease.
Methods
We analysed 1432 patients (221 male and 1211 female) who underwent surgery for Graves' disease at the Centre for Endocrine Surgery in Belgrade during 15 years (1996–2010). Average age was 34.8 years. Frequency of surgical complications within the groups was analyzed with nonparametric Fisher's test.
Results
Total thyroidectomy (TT) was performed in 974 (68%) patients, and Dunhill operation (D) in 221 (15.4). Carcinoma of thyroid gland was found in 146 patients (10.2%), of which 129 (9%) were a microcarcinoma. Complication rates were higher in the TT group, where there were 31 (3.2%) patients with permanent hypoparathyroidism, 9 (0.9%) patients with unilateral recurrent nerve paralysis and 10 (1.0%) patients with postoperative bleeding. Combined complications, such as permanent hypoparathyroidism with bleeding were more common in the D group where there were 2 patients (0,9%), while unilateral recurrent nerve paralysis with bleeding was more common in the TT group where there were 3 cases (0,3%).
Conclusions
Frequency of complications were not significantly statistically different in relation to the type of surgical procedure. Total thyroidectomy represents a safe and efficient method for treating patients with Graves' disease, and it is not followed by a greater frequency of complications in relation to less extensive procedures.