23.07.2015 | Ausgabe 5/2016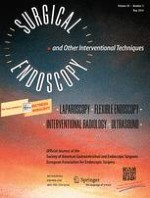 Totally laparoscopic spleen-preserving splenic hilum lymph nodes dissection in radical total gastrectomy: an omnibearing method
Zeitschrift:
Autoren:

Wei Wang, Zhiwei Liu, Wenjun Xiong, Yansheng Zheng, Lijie Luo, Dechang Diao, Jin Wan
Wichtige Hinweise
Wei Wang and Zhiwei Liu contributed equally to this work in the design of the study and preparation of the manuscript and should be both considered as co-first authors. Wenjun Xiong and Jin Wan contributed equally to this work in the technique design, materials collection, analysis, interpretation of data and revising the article, they should be the co-correspondence authors.
Abstract
Objective
To investigate the feasibility and safety of laparoscopic spleen-preserving splenic hilum lymph nodes (LNs) dissection for advanced proximal gastric cancer using an omnibearing method.
Methods
Between August 2013 and December 2014, 16 patients with advanced proximal gastric cancer treated in Guangdong Province Hospital of Chinese Medicine, were enrolled and subsequently underwent laparoscopic radical total gastrectomy (TG) with spleen-preserving splenic hilum LNs dissection. During dissecting Nos. 10 and 11 LNs, we divided them into two parts, namely LNs anterosuperior and posterior to the splenic vessel. The clinicopathological characteristics, intraoperative outcomes and postoperative courses were retrospectively collected and analyzed in the study.
Results
Laparoscopic surgery was successfully completed in all 16 patients without conversion to open surgery, and no perioperative death occurred. The mean operating time was 328.75 ± 46.96 min, and the mean estimated blood loss was 135.63 ± 62.07 ml. One patient experienced intraoperative bleeding due to the splenic vein injury which was successfully handled with laparoscopic vessel suturing, and one postoperative pulmonary infection was recorded. The mean time to first flatus was 3.56 ± 1.03 days with a mean 9.63 ± 1.50 days of postoperative hospital stay. The mean number of retrieved LNs was 28.31 ± 5.99, in which LNs anterosuperior to splenic artery was 2.88 ± 2.66 and LNs posterior was 1.38 ± 1.75.
Conclusion
Laparoscopic TG with spleen-preserving splenic hilum LNs dissection using an omnibearing method for advanced proximal gastric cancer was safe and technically feasible in experienced hands. Further studies in terms of its clinical significance are needed.