01.11.2010 | Review Article | Ausgabe 3/2010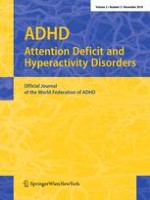 Toward a better understanding of ADHD:
LPHN3

gene variants and the susceptibility to develop ADHD
Zeitschrift:
Autoren:

Mauricio Arcos-Burgos, Maximilian Muenke
Abstract
During the past 15 years, an impressive amount of genetic information has become available in the research field of psychiatry, particularly as it relates to attention-deficit/hyperactivity disorder (ADHD). However, the classical clinical approach to ADHD has minimally affected and not significantly been improved by this genetic revolution. It is difficult to predict how long it will take for genetic findings to alter the way clinicians treat patients with ADHD. New medications or treatment protocols may take years to become routine clinical practice. However, when taken together, recent successes in genomics, pharmacogenomics, and genetic epidemiology have the potential (1) to prevent comorbid consequences of ADHD, (2) to individualize therapies for patients with ADHD, and (3) to define new epidemiological policies to aid with the impact of ADHD on society. Here, we present an overview of how genetic research may affect and improve the quality of life of patients with ADHD: as an example, we use the discovery of
LPHN3,
a new gene in which variants have recently been shown to be associated with ADHD.