01.12.2017 | Guideline | Ausgabe 1/2017 Open Access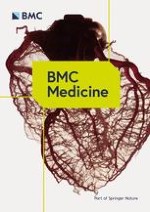 Towards new recommendations to reduce the burden of alcohol-induced hypertension in the European Union
Zeitschrift:
Autoren:

Jürgen Rehm, Peter Anderson, Jose Angel Arbesu Prieto, Iain Armstrong, Henri-Jean Aubin, Michael Bachmann, Nuria Bastida Bastus, Carlos Brotons, Robyn Burton, Manuel Cardoso, Joan Colom, Daniel Duprez, Gerrit Gmel, Antoni Gual, Ludwig Kraus, Reinhold Kreutz, Helena Liira, Jakob Manthey, Lars Møller, Ľubomír Okruhlica, Michael Roerecke, Emanuele Scafato, Bernd Schulte, Lidia Segura-Garcia, Kevin David Shield, Cristina Sierra, Konstantin Vyshinskiy, Marcin Wojnar, José Zarco
Wichtige Hinweise
Electronic supplementary material
The online version of this article (doi:
10.​1186/​s12916-017-0934-1
) contains supplementary material, which is available to authorized users.
Abbreviations
DALYs
Disability-adjusted life years
NCDs
Non-communicable Diseases
NICE
National Institute for Heath and Care Excellence
WHO
World Health Organization
Background
Alcohol and hypertension as risk factors for non-communicable diseases (NCDs)
In May 2013, the World Health Organization (WHO) adopted a Global Action Plan for the Prevention and Control of Non-communicable Diseases for the period 2013–2020. The main target [
1
] comprises a 25% reduction in the risk of premature mortality from cardiovascular diseases, cancer, diabetes, or chronic respiratory diseases. To achieve this overall target, a number of individual targets for risk factors have been established, including, but not limited to, at least a 10% reduction in the harmful use of alcohol and a 25% reduction in the prevalence, or limitation of the increase in the prevalence, of raised blood pressure (BP), according to national circumstances. For countries of the European Union, given the consistently high rates of raised BP over the past decades (e.g., [
2
]), the 25% reduction of prevalence seems most appropriate [
3
].
It has been estimated that, if the main targets for risk factors were to be achieved, the overall goal for reduction of premature mortality would be practically reached at the global level [
4
], and would be exceeded in the European region [
5
]. The measures proposed to reach the NCD goals are centered around the so-called "best buys" of the WHO, interventions that are not only highly cost-effective but also feasible and appropriate to implement within the respective health systems [
6
]. Best buys for alcohol comprise taxation increases, restrictions on availability, and a ban on marketing for alcohol use. For hypertension, best buys were more scarce, as only a reduction of salt intake was listed (Appendix 3 of reference [
1
]) [
6
–
8
]. Herein, we will show, using data from five European countries, that screening and interventions for both hazardous and harmful use of alcohol (including alcohol use disorders (AUDs)) and for hypertension in primary healthcare can also lead to public health-relevant reductions of NCDs in Europe, albeit at higher costs than best buys (see point on economic considerations below), as these are individual-level interventions. In addition, this paper will list recommendations from a consensus conference on what should be performed to achieve these reductions.
Methods
Herein, the various stages in preparation for and the activities performed at the consensus conference on "Screening and intervention for harmful alcohol use as a tool to improve the management of hypertension in primary care" will be outlined. The conference took place in Barcelona on 12th November, 2015, by invitation of the Public Health Agency of Catalonia (see Additional file
1
: Appendix 1 for the agenda). Catalonia is one of the few jurisdictions in Europe which has integrated yearly screening for alcohol consumption into its primary healthcare plan. The Public Health Agency prepared the conference [
9
].
Input into the conference
In preparation for the conference, a number of national meetings on its topic were held in Belgium [
10
], Finland [
11
], Germany [
12
], Spain [
13
], and the UK [
14
], where presentations of systematic reviews and meta-analyses on causality and the relationship between drinking and BP (see below for a summary) and of systematic reviews on the effects of alcohol intervention on BP (see below for a summary) were held. Further, modelling of the potential impact of primary care interventions on alcohol (technical details on the modelling are listed in Appendix 2, following the stipulations of the GATHER statement [
15
]) was performed and the results from a survey among primary care physicians on practices concerning alcohol screening and interventions in the management of hypertension [
16
] were presented. Finally, draft recommendations, prepared on the basis of the abovementioned national meetings, were put forward.
Steps towards consensus
Each draft recommendation was discussed extensively with a preliminary wording. It was agreed that the preliminary wordings would be circulated again to all participants to achieve a final consensus, together with new evidence as available. The second consultation period took place between 20th September and 20th October, 2016. As part of the revision process for the journal article, new evidence was incorporated and there was a third consultation between February 16th and March 1st, 2017.
Grading the recommendations
We based our recommendations on the GRADE (Grading of Recommendations Assessment, Development and Evaluation) approach, which rates the quality of evidence for a particular outcome across studies and does not rate the quality of individual studies [
17
,
18
]. For some recommendations, we took the evidence grades from the respective review of UK National Institute for Heath and Care Excellence (NICE), which used the same system to grade the quality of evidence as high, moderate, low, or very low [
19
].
Results and Discussion
The evidence for alcohol interventions to reduce BP
Interventions to reduce alcohol consumption
The potential in Europe – examples from five countries
While control and management of hypertension is a key element of any European guideline for primary healthcare, most general population surveys show that a large minority of women and the majority of men with hypertension aged 40 to 64 either do not know about their health condition or are not adequately controlled (i.e., they show BP values ≥ 140/90 mm Hg; see Table
1
for details).
Table 1
Proportion with hypertension with or without control in large population surveys among 40–64 year olds
Proportion of people with hypertension a

Proportion recognized or in treatment (with or without adequate control) b

Fieldwork of main study

Women

Men

Women

Men

France

30.4%

46.2%

64.0%

36.1%

2006–2007

Germany

29.6%

36.5%

56.0%

40.1%

2008–2011

Italy

33.2%

42.1%

52.0%

40.4%

2008–2012

Spain

30.0%

42.0%

62.0%

48.1%

2008–2010

UK

22.6%

27.2%

31.2%

23.9%

2006
The following models the joint effects of two interventions (see Additional file
2
: Appendix 2). First, it is assumed that 50% of the people aged 40–64 years with uncontrolled hypertension (i.e., BP ≥ 140/90 mm Hg [
37
,
60
,
61
]) receive an intervention (in part but not limited to pharmacotherapy [
37
]), which lowers their BP level to that of people with controlled hypertension. Secondly, it is assumed that, among those with uncontrolled hypertension who are receiving hypertension interventions, 50% of those eligible will also receive either brief advice or a brief intervention for hazardous or harmful alcohol use, or treatment for alcohol dependence. The results are summarized in Table
2
.
Table 2
Blood pressure indicators among people with hypertension before and after the interventions among people with hypertension, 40–64 years old
Sex

Mean systolic BP a

Δ b

% ≥ 140/90 mm Hg a

Δ c

General population d

before

after

before

after

France

W

140.7

138.1

2.5

48%

41%

7%

2.0%

M

146.3

141.0

5.3

59%

48%

11%

5.3%

Germany

W

141.5

138.5

3.0

49%

42%

7%

2.0%

M

143.9

139.8

4.2

55%

45%

9%

3.4%

Italy

W

144.7

142.1

2.6

56%

51%

6%

1.8%

M

144.2

139.7

4.4

55%

45%

10%

4.0%

Spain

W

146.0

144.6

1.4

60%

57%

3%

1.0%

M

146.8

144.9

1.9

62%

57%

4%

1.8%

UK

W

141.5

139.5

2.0

50%

45%

5%

1.1%

M

145.4

142.8

2.5

58%

52%

5%

1.5%
In each of the countries, the proposed intervention would have a sizeable effect on improving BP levels among 40- to 65-year-old hypertensives and would markedly increase the proportion of people below the threshold 140/90 mm Hg in the general population (for men, between 1.5% and 5.3%; for women, between 1.0% and 2.0%). Both effects are more pronounced in men, which is not surprising, as men have worse control of BP in all countries and, relatedly, they have worse alcohol consumption habits [
1
] (Table
2
).
The next set of calculations measures the impact of the proposed interventions on mortality and burden of disease as measured in disability-adjusted live years (DALYs) in the same age group within 1 year, using the methodology of comparative risk assessment [
62
,
63
] (see Additional file
2
: Appendix 2). This limitation for 1 year is consistent with knowledge that brief intervention effects will show some attrition over time [
64
].
The potential effect of the interventions on reducing mortality would be sizeable. In each of the five countries examined, the reductions of BP and the effects of reduced alcohol would lead to hundreds of deaths avoided within 1 year (Table
3
); for instance, in Germany alone, a reduction of 1536 cardiovascular disease deaths, 138 gastrointestinal deaths, and 20 injury deaths. In terms of burden of disease, for Germany, about 86,000 years of life lost due to cardiovascular premature mortality or due to disability in this age group could be avoided, plus another 5500 due to gastrointestinal disease and 3000 due to injury.
Table 3
Lives saved and disability-adjusted life years avoided in major disease categories within 12 months attributable to the interventions among people with hypertension, 40–64 years old
Deaths

Cardiovascular disease

Gastrointestinal disease

Total

Attributable to IHD

Attributable to stroke

Total

Attributable to liver cirrhosis

Injury

France

W

111

25

47

12

11

3

M

1041

443

276

109

88

30

Germany

W

275

83

98

25

22

2

M

1261

633

246

113

100

18

Italy

W

158

42

57

10

9

1

M

805

389

180

98

82

15

Spain

W

50

16

22

4

3

1

M

301

164

76

48

38

8

UK

W

77

27

29

25

24

2

M

378

220

78

84

75

11

DALYs

France

W

10,590

2850

5189

456

417

418

M

56,844

23,237

19,335

4235

3710

2914

Germany

W

21,179

7042

8703

1007

943

599

M

64,840

31,245

16,983

4491

4022

2379

Italy

W

15,543

4948

5872

489

452

536

M

47,273

21,992

13,020

4305

3777

2491

Spain

W

4764

1483

2100

181

159

233

M

16,419

8086

5007

1934

1660

1198

UK

W

4860

1648

2117

1012

936

495

M

18,354

9581

5348

3394

3033

1632
This does not even include the effect of reduced alcohol use on other disease categories such as AUDs or cancer. For the latter disease category, the effects would only be seen after decades due to the long time lag [
65
]. For the other disease categories, lag times are short [
66
], and the vast majority of deaths will be covered, including liver cirrhosis deaths, where interventions have shown immediate effects [
67
].
Economic considerations
Thus far, we have only considered estimated effects of implementing both interventions, indicating public health-relevant effects on BP and premature mortality (as all calculations were restricted to people aged 40–65 years). Others have shown effects on wider outcomes as well (see [
34
] for effects on BP-attributable hospitalizations; Organisation for Economic Co-operation and Development [
87
] for estimating and comparing effects on alcohol interventions on disease burden). For any change in healthcare systems, information about costs are also necessary, as effective interventions may not be taken up if they are not cost-effective. A recent systematic review showed that brief interventions in primary healthcare have also been shown to be cost-effective [
88
]. In addition, Angus et al. [
89
] estimated, by modelling potential effects of implementing screening and brief interventions for hazardous or harmful drinking, that these programs were likely to be cost-effective in 24 out of 28 European Union countries and cost-saving in 50% of these. They concluded that implementing national alcohol intervention programs in primary healthcare would be a cost-effective means to reduce health burden. However, it should be noted that the work of Angus et al. [
89
] was not limited to the consequences mediated by BP, but included all health consequences.
Given these numbers, and bearing in mind that there is only one best buy for hypertension (Appendix 3 of [
1
]) and, further, that the three best buys for alcohol have been rarely considered by decision-makers given the strong impact of economic operators and the fear that taxation increases and availability restrictions would prove unpopular with many voters [
90
], implementing alcohol interventions for people with newly detected hypertension seems an attractive and feasible option to improve public health at relatively low, or for some jurisdictions, no overall costs.
Potential for implementation and conclusions
All of the four recommendations have been chosen as measurable, achievable, and realistic for implementation in primary healthcare. Obviously, as with all recommendations, implementations should be carefully evaluated. While we have laid out the economic arguments for implementing the recommendations, these are currently based on assumptions and different modelling approaches. More controlled approaches with randomization should be used to study the effects of the recommendations. Moreover, evaluations, including but not limited to economic evaluations [
91
], are necessary to create sustainable policies, which could be defended in times of scarce resources.
During implementation, priority should be given to the integration of routine screening for alcohol (recommendation 2) and interventions for hazardous and harmful drinking (recommendation 2) and AUDs (recommendation 3) into the management of hypertension. Improved training and better remuneration systems, specifically adapted to the different healthcare systems, are crucial [
57
]. Some of the current steps in this direction are promising, and we hope that the reasoning and recommendations of this consensus paper can provide further important momentum to move European healthcare systems in this direction.
Acknowledgements
It should be noted that the views reported in this paper do not necessarily represent the views of the authors' employing organizations.
Funding
The workshop entitled "Screening and intervention for harmful alcohol use as a tool to improve the management of hypertension in primary care", held on November 12, 2015, in Barcelona, Spain, was financially supported by Lundbeck (in providing travel allowances for some participants). An agenda of the workshop can be found in Additional file
1
: Appendix 1.
Availability of data and materials
Data sources used for modelling are referenced. No primary data were used.
Ethics approval and consent to participate
Not applicable.
Consent for publication
Not applicable.
Competing interests
JR reports grants, personal fees and serving as board member (Nalmefene up to 2014) for Lundbeck. PA reports no competing interests. JAAP reports grants and personal fees from Lundbeck. IA reports no competing interests. H-JA reports serving as board member for Pfizer, D&A Pharma, Ethypharm, and Lundbeck, and receiving sponsorships, speaker honoraria and consultancy fees from Bioprojet, D&A Pharma, Ethypharm, Lundbeck, Merck-Serono, Novartis, and Pfizer. MB reports consulting fees received from Lundbeck (through consulting business Copentown) for organisational and process support in connection with the project. Copentown, which is owned by MB, also has other pharmaceutical/healthcare clients. NBB reports funding from Lundbeck for a research project on alcohol. CB reports consulting fees from Lundbeck. RB reports no competing interests. MC reports no competing interests. JC reports sponsorship from Lundbeck to attend scientific meetings. DD received consultant fee form Lundbeck. GG reports no competing interests. AG reports grants and personal fees from Lundbeck and D&A Pharma, grants from TEVA, and personal fees from Abbivie. LK reports funding from Lundbeck for a research project on alcohol. RK received honoraria for consultancy, lectures and support for research from Bayer Pharma, Berlin-Chemie Menarini, Bristol-Myers Squibb, Daiichi Sankyo, Lundbeck, and Servier. HL reports consultation fee from Lundbeck. JM reports personal fees from Lundbeck. LM reports no competing interests. LO reports no competing interests. MR reports no competing interests. ES reports sponsorship to attend scientific meetings from Lundbeck. BS reports no competing interests. LS-G reports sponsorship from Lundbeck to attend one scientific meeting. KDS reports no competing interests. CS reports sponsorship to attend scientific meetings from Lundbeck. KV reports no competing interests. MW reports personal fees from AOP Orphan, Berlin Chemie, Janssen, Lundbeck, D&A Pharma, Reckitt Benckiser. JZ reports personal fees from Lundbeck, and consultancy fees and salaries from Menarini, Lilly and Gilead.
Open Access
This article is distributed under the terms of the Creative Commons Attribution 4.0 International License (
http://​creativecommons.​org/​licenses/​by/​4.​0/​
), which permits unrestricted use, distribution, and reproduction in any medium, provided you give appropriate credit to the original author(s) and the source, provide a link to the Creative Commons license, and indicate if changes were made. The Creative Commons Public Domain Dedication waiver (
http://​creativecommons.​org/​publicdomain/​zero/​1.​0/​
) applies to the data made available in this article, unless otherwise stated.