01.12.2016 | Review | Ausgabe 1/2016 Open Access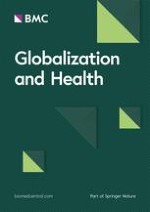 Towards sustainable partnerships in global health: the case of the CRONICAS Centre of Excellence in Chronic Diseases in Peru
Zeitschrift:
Autoren:

J. Jaime Miranda, Antonio Bernabé-Ortiz, Francisco Diez-Canseco, Germán Málaga, María K. Cárdenas, Rodrigo M. Carrillo-Larco, María Lazo-Porras, Miguel Moscoso-Porras, M. Amalia Pesantes, Vilarmina Ponce, Ricardo Araya, David Beran, Peter Busse, Oscar Boggio, William Checkley, Patricia J. García, Luis Huicho, Fabiola León-Velarde, Andrés G. Lescano, David C. Mohr, William Pan, David Peiris, Pablo Perel, Cristina Rabadán-Diehl, Maria Rivera-Chira, Katherine Sacksteder, Liam Smeeth, Antonio J. Trujillo, Jonathan C. K. Wells, Lijing L. Yan, Héctor H. García, Robert H. Gilman
Abstract
Human capital requires opportunities to develop and capacity to overcome challenges, together with an enabling environment that fosters critical and disruptive innovation. Exploring such features is necessary to establish the foundation of solid long-term partnerships. In this paper we describe the experience of the CRONICAS Centre of Excellence in Chronic Diseases, based at
Universidad Peruana Cayetano Heredia
in Lima, Peru, as a case study for fostering meaningful and sustainable partnerships for international collaborative research. The CRONICAS Centre of Excellence in Chronic Diseases was established in 2009 with the following Mission: "We support the development of young researchers and collaboration with national and international institutions. Our motivation is to improve population's health through high quality research." The Centre's identity is embedded in its core values — generosity, innovation, integrity, and quality— and its trajectory is a result of various interactions between multiple individuals, collaborators, teams, and institutions, which together with the challenges confronted, enables us to make an objective assessment of the partnership we would like to pursue, nurture and support. We do not intend to provide a single example of a successful partnership, but in contrast, to highlight what can be translated into opportunities to be faced by research groups based in low- and middle-income countries, and how these encounters can provide a strong platform for fruitful and sustainable partnerships. In defiant contexts, partnerships require to be nurtured and sustained. Acknowledging that all partnerships are not and should not be the same, we also need to learn from the evolution of such relationships, its key successes, hurdles and failures to contribute to the promotion of a culture of global solidarity where mutual goals, mutual gains, as well as mutual responsibilities are the norm. In so doing, we will all contribute to instil a new culture where expectations, roles and interactions among individuals and their teams are horizontal, the true nature of partnerships.