25.11.2017 | Original Article | Ausgabe 2/2018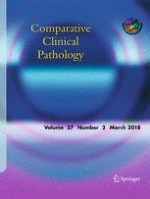 Toxicological evaluations of aqueous extracts of two Nigerian ethnobotanicals (
Tetrapleura tetraptera

and

Quassia undulata

) of neurological importance in rats
Zeitschrift:
Autoren:

Veronica Oluwatoyin Odubanjo, Emmanuel Oluwafemi Ibukun, Ganiyu Oboh
Abstract
Tetrapleura tetraptera
(TT) and
Quassia undulata
(QU) are two predominant ethnobotanicals commonly used in traditional medical practices for the management of neurological disorders in Nigeria. However, there is a dearth of information on the toxicological aspects of these plants. Hence, in this study, a 14-day toxicological evaluation of aqueous extracts of TT and QU were carried out in rats. The extracts were administered orally with 5, 50, 500, 2000, and 5000 mg/kg body weight. Signs of toxicity were observed every hour for the first 6 h and every day for 14 days. Mortality, clinical signs, body weight changes, and biochemical parameters were monitored during the study period. There were no mortality or change in weight observed in the rats at all doses for both extracts, while some clinical signs were observed in rats dosed at 5000 mg/kg during the first 2 h of dosing. Also, there were no significant changes in the plasma liver marker enzymes [aspartate aminotransferase (AST), alkaline phosphatase (ALP), and alanine aminotransferase (ALT)], plasma renal marker enzymes [creatinine, urea, blood urea nitrogen (BUN), and uric acid], and the tissue malondialdehyde (MDA) levels of rats administered 5, 50, 500, and 2000 mg/kg of both extracts when compared to the control, but there was a significant increase in the plasma AST, ALT, and MDA levels of rats administered 5000 mg/kg when compared to the control. The no observed adverse effects level (NOAEL) value of 5–2000 mg/kg implies that the extracts could be safe at those doses and could give some information on the safety of these plants with respect to their ethnomedicinal uses especially in the management of neurological disorder.