06.04.2018 | Original Article – Clinical Oncology | Ausgabe 6/2018 Open Access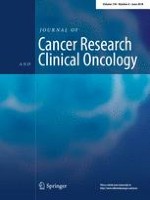 Trabectedin plus pegylated liposomal doxorubicin (PLD) for patients with platinum-sensitive recurrent ovarian cancer: a prospective, observational, multicenter study
Zeitschrift:
Autoren:

Ingo B. Runnebaum, Dietmar Reichert, Uta Ringsdorf, Markus Kuther, Tobias Hesse, Jalid Sehouli, Pauline Wimberger
Abstract
Purpose
The OVA-YOND study is the first prospective, non-interventional trial designed to evaluate trabectedin (1.1 mg/m2) plus PLD (30 mg/m2) in patients with platinum-sensitive recurrent ovarian cancer (ROC), given according to the marketing authorization in real-life clinical practice across Germany.
Methods
Eligible patients were adults with platinum-sensitive ROC, pretreated with ≥ 1 platinum-containing regimen/s. The primary endpoint was to assess safety/tolerability of the combination.
Results
Seventy-seven patients with platinum-sensitive relapse from 31 sites were evaluated. Patients received a median of 6 cycles (range 1–21) with 39 patients (50.6%) receiving ≥ 6 cycles. Median treatment duration was 4.2 months (range 0.7–18.8), mostly on an outpatient basis (88.3% of patients). Most common grade 3/4 trabectedin-related adverse events (AEs) were leukopenia (18.2%), neutropenia (15.6%), thrombocytopenia (9.1%), alanine (7.8%) and aspartate aminotransferase (6.5%) increase, and nausea/vomiting (5.2% each). Neutropenia (18.2%), leukopenia (15.6%), thrombocytopenia (10.4%), and nausea/vomiting (5.2% each) were the most frequent grade 3/4 PLD-related AEs. No deaths attributed to drug-related AEs or unexpected AEs occurred. Five patients (6.5%) had a complete response and 19 patients (24.7%) achieved a partial response for an objective response rate of 31.2% with median response duration of 6.25 months. Sixteen patients (20.8%) had disease stabilization for a disease control rate of 51.9%. Median progression-free survival was 6.3 months and median overall survival was 16.4 months.
Conclusion
Trabectedin plus PLD confer clinically meaningful benefit to pre-treated patients with platinum-sensitive ROC, being comparable to those previously observed in selected populations from clinical trials and with a manageable safety profile.