16.03.2019 | Case Series | Ausgabe 2/2019 Open Access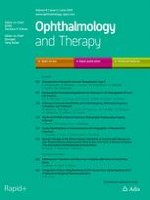 Trabeculectomy with Suprachoroidal Derivation in Eyes with Uncontrolled Glaucoma: A Case Series with a 24-Month Follow-up
Zeitschrift:
Autoren:

Rodolfo A. Perez-Grossmann, Daniel E. Grigera, Alan Wenger
Wichtige Hinweise
Enhanced digital features
Abstract
Introduction
The aim of this study was to evaluate the efficacy of trabeculectomy with suprachoroidal derivation in eyes with uncontrolled glaucoma after a 24-month follow-up period.
Methods
This was a prospective uncontrolled non-randomized case series. All patients scheduled for a trabeculectomy due to uncontrolled glaucoma at the "Instituto de Glaucoma y Catarata" (Lima, Peru) between 2011 and 2014 were included. Thee patients underwent trabeculectomy with mitomycin C and suprachoroidal derivation with two autologous scleral flaps. Postsurgical follow-up visits took place on day 1, and at 1, 6, 12, 18 and 24 months. Best corrected visual acuity (BCVA), intraocular pressure (IOP) and complications at each control were registered. Main outcome measures were IOP reduction, number of glaucoma medications and complication rate. Postoperative IOP of > 21 mmHg, < 5 mmHg, additional glaucoma surgery or severe complications were considered as indications of failure.
Results
Thirty-three participants (41 eyes) were included in the study, of whom 27 (81.82%) (31 eyes [75.61%]) finished the 24 months of follow-up. At the end of the follow-up, mean IOP had decreased by 11.29 ± 9.32 mmHg (
p
 < 0.001), and glaucoma medication usage in 25 (25/31; 80.65%) eyes had stopped. Ten (10/41; 24.39%) patients complained of blurred vision, and 15 (15/41; 36.59%) patients referred to foreign body sensation the first day after surgery; both sensations resolved spontaneously after 1 week in all cases. No failures, significant changes in BCVA (
p
 = 0.387) or severe complications were found.
Conclusions
In this case series, trabeculectomy with suprachoroidal derivation exhibited high efficacy and safety after a 24-month follow-up. A larger sample with a control group is needed to confirm our initial findings.