13.06.2020 | Original Article—Alimentary Tract | Ausgabe 9/2020 Open Access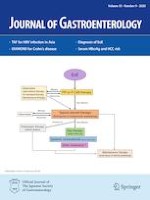 Traditional serrated adenoma has two distinct genetic pathways for molecular tumorigenesis with potential neoplastic progression
Zeitschrift:
Autoren:

Yoshihito Tanaka, Makoto Eizuka, Noriyuki Uesugi, Keisuke Kawasaki, Hiroo Yamano, Hiromu Suzuki, Takayuki Matsumoto, Tamotsu Sugai
Wichtige Hinweise
Electronic supplementary material
Publisher's Note
Springer Nature remains neutral with regard to jurisdictional claims in published maps and institutional affiliations.
Abstract
Background
Recent studies have shown that traditional serrated adenoma (TSA) can be classified into BRAF and KRAS subtypes. Here, we examined the clinicopathological and molecular findings of 73 TSAs.
Materials and methods
TSAs were subclassified into BRAF type (46 cases, type A) and KRAS type (27 cases, type B) and divided into polyp head (TSA component) and base (precursor component [PC]) to identify pathological and molecular differences between the two components.
BRAF
and
KRAS
mutations, microsatellite instability (MSI), and DNA methylation status of the TSA component and PC were analyzed. In addition, immunohistochemical expressions of annexin A10, MUC2, MUC5AC, MUC6, and CD10 were also examined. Finally, we compared endoscopic findings with histological features.
Results
We classified type As into 31 type A1s with mutation of the corresponding PC (42.5%) and 15 type A2s without mutation of the PC (20.5%). None of the corresponding PCs without
KRAS
mutation were observed in type Bs. MSI was not detected in the TSAs examined. There were significant differences in the frequency of annexin A10 and MUC5AC expression between the three subtypes. Furthermore, we compared the TSA component with the corresponding PC to identify the progression mechanism between the two components. Methylation status played an important role in the progression of type A1 from the corresponding PC, unlike type A2 and type B. Finally, specific endoscopic findings were well correlated with distinct histological findings.
Conclusion
TSAs were heterogeneous tumors with two or three pathways to neoplastic progression.