11.11.2017 | Original Article | Ausgabe 3/2018 Open Access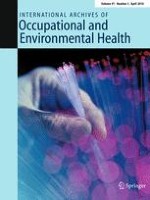 Trajectories of job demands and control: risk for subsequent symptoms of major depression in the nationally representative Swedish Longitudinal Occupational Survey of Health (SLOSH)
Autoren:

Julia K. Åhlin, Hugo Westerlund, Yannick Griep, Linda L. Magnusson Hanson
Wichtige Hinweise
Electronic supplementary material
The online version of this article (doi:
10.​1007/​s00420-017-1277-0
) contains supplementary material, which is available to authorized users.
Introduction
Depression is a common, disabling and burdensome mental disorder (Wittchen et al.
2011
), and thus a major public health concern.
Increased severity of depression has been associated with more disability, unemployment and poorer work performance (Birnbaum et al.
2010
). Occupational stress research has shown that both acute work-related stressful experiences and enduring structural occupational factors can contribute to depression (Tennant
2001
). The majority of studies draw upon the Demand-Control Model (Karasek
1979
) encompassing the psychological demands and control dimensions. Psychological job demands refer to the pace and mental intensity of work, whereas job control (decision latitude) comprises decision authority and skill discretion. The model classifies jobs into four categories: "high-strain," "low strain," "active," and, "passive" jobs (Karasek
1979
). "High-strain" jobs are characterised by high demands and low control, whereas "low strain" reflect low demands and high control (Karasek
1979
). "Active" jobs involve high demands and high control, whereas "passive" involve low demands and low control (Karasek and Theorell
1990
). According to the model, especially "high strain" has been suspected to cause mental strain, and if prolonged, constitute a health risk (Karasek and Theorell
1990
). In contrast, "low strain" jobs may be associated with lower health risks (Karasek and Theorell
1990
).
Previous research indicates that high demands, low control, and "high strain" are risk factors for depressive symptoms (Bonde
2008
; Netterstrom et al.
2008
; Nieuwenhuijsen et al.
2010
; Stansfeld and Candy
2006
; Theorell et al.
2015
). A recent review found that job strain and low decision latitude influenced the development of depressive symptoms, while evidence for a negative influence of psychological demands was limited (Theorell et al.
2015
). In another review, the exposure to high demands was a stronger predictor of depression than the exposure to low control (Netterstrom et al.
2008
). However, very few longitudinal studies have investigated how changed or repeated exposure to job strain over time is associated with subsequent depression. Although some studies suggest that accumulated or increased job strain is associated with depression, results have been inconsistent and few included more than two measurement points (Burns et al.
2016
; Stansfeld et al.
2012
), hampering the ability to properly examine accumulation or change over time. Therefore, we know little about how the duration of, and change in demands and control relate to the risk for developing depression (Netterstrom et al.
2008
; Nieuwenhuijsen et al.
2010
; Wang et al.
2009
). The aim of the present study was to increase the knowledge about the role of demand/control dynamics by investigating how trajectories of job demands and control jointly influence the risk for subsequent depression.
Materials and methods
Study population
We used data from the Swedish Longitudinal Occupational Survey of Health (SLOSH) cohort, a longitudinal survey of working life and health initiated in 2006 (Magnusson Hanson et al.
2008
). SLOSH consists of participants in the Swedish Work Environment Surveys (2003–2011), originally representative of the Swedish working population. Participants are followed up every other year and depending on their current situation at follow-up, respondents chose between two versions of the questionnaire: (1) 'in paid work' (i.e. gainful employment for at least 30% of full-time), or (2) 'not in paid work' (i.e. currently not working or working less than 30% of full-time). Five waves of data have been used in the present study: 2006, 2008, 2010, 2012, and 2014 (number of invited participants = 9154, 18639, 20298, 17434 and 38659, respectively). The overall response rates were between 65 and 57%, resulting in a sample of 7949 SLOSH participants who: (1) responded to the 'gainfully employed' questionnaire during any of the first four waves (2006–2012) (to model their demand and control trajectories during this time period), (2) responded to either of the questionnaires in the fifth wave (2014), and (3) did not reach a symptom score indicating major depression in any of the first four waves (exclusion of 777 participants) (See Online resource 1). The reason that we did not require participants to have responded in all four waves was because the analytical strategy (described in the Statistical methods section) can handle missing data. A larger proportion of the excluded individuals compared to the 7949 included were young (14.7%) and middle-aged (41.7%), women (72.1%), single/living alone (27.9%) and had children (51.3%). Also, high demands (62.8%) and low control (63.3%) were more common and depressive symptoms were significantly higher (mean = 14.3, Sd = 6.3) among the excluded (
p
< 0.05 based on
χ
2
tests and
t
test). The study was approved by the Regional Ethical Review Board in Stockholm, dnr: 2006/158-31, 2008/240-32, 2010/0145-32, 2012/373-31/5, 2013/2173-32, 2015/2187-32.
Main measures
Job demands and job control were measured using the Swedish shortened version of the Demand-Control-Support-Questionnaire (Chungkham et al.
2013
; Fransson et al.
2012
; Sanne et al.
2005
) in wave one through four. Job demands were measured by four items (e.g., Do you have to work very intensively?). Job control was measured by six items (e.g., Do you have a choice in deciding how you do your work?) Items were scored on a Likert scale ranging from (1) "never/almost never" to (4) "often". The scales showed acceptable alpha coefficients, which were mean
α
= 0.67, Sd = 0.02, range 0.65–0.69 for demands and mean α = 0.66, Sd = 0.00, range 0.65–0.66 for control. The level-specific omega reliability for job demands (
ω
= 0.89) and job control (
ω
= 0.95) was also satisfactory, indicating satisfactory reliability when also accounting for the multilevel nature of the data (Geldhof et al.
2014
).
Symptoms of depression were measured using the SCL-Core Depression scale (SCL-CD), a brief 6-item subscale of the (Hopkins) Symptom Checklist (SCL) depression scale (Magnusson Hanson et al.
2009
,
2014
). Only in wave 5, respondents were instructed to indicate to what extent they were feeling blue, feeling no interests in things, feeling lethargy or low in energy, worrying too much about things, blaming oneself for things, and feeling everything is an effort (
α
= 0.89). Items were scored on a Likert scale ranging from (1) "not at all" to (4) "extremely". We used a sum scale assessing severity of depression and a cut-off score of ≥ 17 to indicate symptoms of major depression, in line with a previous study examining the most suitable threshold value for major depression in epidemiological research (Magnusson Hanson et al.
2014
).
Statistical methods
To investigate how levels of job demands and control changed over time, group-based trajectory modelling (GBTM) was used. GBTM was developed to study a behaviour/phenomenon which is repeatedly measured over time, and identifies subgroups of individuals following a similar developmental course over time or age (Nagin
2005
). We conducted GBTM using the STATA TRAJ plugin (Jones and Nagin
2012
). First, we fit univariate trajectory models for demands and control over calendar time, respectively. The identified univariate trajectory models were subsequently used to estimate a joint trajectory model, in which we simultaneously assessed the trajectories of demands and control. Finally, we investigated the association between the joint trajectories and symptoms of major depression using multiple logistic regression analysis.
Univariate trajectory analysis
To determine the optimal number of trajectory groups, and to test the level of complexity (i.e., the number and order of regression parameters) required to describe the demand and control trajectories, we followed a similar procedure as previously described in the literature (Andruff et al.
2009
; Nagin
2005
). We applied a censored normal distribution because demands and control were assessed by composite psychometric scales (Nagin
1999
). First, we fit a single trajectory model for demands and control, respectively. Because we used four waves of data, we initially tested a cubic polynomial shape (third-order polynomial), followed by a quadratic, and linear shape. When the cubic parameter was significant, the same (single trajectory) model was compared to a two-trajectory model. We repeated this procedure until there was no longer evidence for improvement in fit. However, if cubic component(s) were not significant, we tested a quadratic trajectory. The same procedure would then be repeated for non-significant quadratic components (i.e., replaced by linear). Only when all components in each model were significant at
p
< 0.05, we compared that model to a model with one additional trajectory group (Nagin
2005
). Linear components were always retained irrespective of statistical significance (Louvet et al.
2009
).
We chose the Bayesian Information Criterion (BIC) as a fit index for determining the best model fit (Raftery
1995
; Schwarz
1978
). More specifically, we used an estimate of the log Bayes factor (2log
e
(B
10
) ≈ 2(ΔBIC) (Kass and Raftery
1995
; Raftery
1995
). This estimate approximately equals 2(BIC
complex model
–BIC
null model
) (Andruff et al.
2009
; Jones et al.
2001
). We then interpreted the log Bayes Factor estimates (values 2–6 reflect positive evidence, 6–10 reflect strong evidence, and > 10, reflect very strong evidence against the null model) as the degree of evidence favouring the more complex model, ensuring model parsimony (Jones et al.
2001
). However, because BIC sometimes keeps improving when adding trajectory groups (Nagin
2005
), we stopped adding groups when the model no longer captured new distinctive features of the data, when some trajectory group became smaller than 1%, when entropy (i.e., index of classification accuracy ranging from 0 to 1 with values closer to 1 indicating better precision; (Jung and Wickrama
2008
) or average posterior probabilities of assignment (APPA; preferably > 0.7; (Nagin
2005
) deteriorated. Hence, several different statistical criteria were used to identify the best trajectory models, combined with an assessment of whether the data distinguished distinctive features in parsimonious way.
Joint trajectory analysis
After selecting the univariate trajectory models, we fit joint trajectory models to investigate the linkages between trajectories of job demands and control. The number of joint trajectory groups that were tested was limited based on the identified univariate trajectory groups since it has been shown that joint trajectories and the corresponding univariate trajectories do not differ much (Nagin and Tremblay
2001
). In line with our research question, we used a constrained joint model in which each trajectory for demands is uniquely associated with a trajectory for control (Brame et al.
2001
; Jones and Nagin
2007
; Nagin
2005
).
Association between joint trajectories and depression
To investigate the relationship between the joint trajectory groups and subsequent symptoms of major depression (as indicated by a symptom score ≥ 17), we conducted multiple logistic regression analysis. Trajectory groups served as the predictor variable and symptoms of major depression in wave five as the outcome variable. First, we fit a crude model. Second, we ran a model adjusting for previous level of depressive symptoms, to reduce the risk that depressive symptoms affected the ratings of job demands and control (Rugulies et al.
2006
). In the third model, we included the demographic covariates age, sex, having children at home ("Do you have any children living at home? Include children living with you at least half of the time"), and civil status ("Are you single or married/cohabiting?") because those kinds of factors are potential confounders according to previous work (Allen et al.
2000
; Bonde
2008
) and were significantly associated with both perceptions of demands and control, as well as symptoms of major depression. Socioeconomic index was not included as a covariate since it was not associated with perceptions of demands and control, or depression. Fourth, we adjusted for previous depressive symptoms in addition to the demographic covariates. We included covariates, as well as previous depressive symptoms from the second wave, in which the cohort was boosted with new subjects, or in case data were missing in the second wave, we used the earliest wave with available data.
Results
Discussion
Acknowledgements
We would like to thank Kristiina Rajaleid and Paraskevi Peristera at the Stress Research Institute for valuable statistical advice. We also want to thank the participants in the SLOSH study.
Compliance with Ethical Standards
Conflicts of interest
The authors declare no conflicts of interest.
Ethical approval
All procedures performed in studies involving human participants were in accordance with the ethical standards of the institutional and/or national research committee (Regional Ethical Review Board in Stockholm) and with the 1964 Helsinki declaration and its later amendments or comparable ethical standards.
Informed consent
Informed consent was obtained from all individual participants included in the study.
Funding
This study was funded by AFA Insurance [Grant No 140323]. The Swedish Research Council for Health, Working life and Welfare (FORTE) supports research based at the Stress Research Institute through the Stockholm Stress Center [Grant No 2009-1758]. The Swedish Longitudinal Occupational Survey of Health has also been supported by the Swedish Research Council for Health, Working life and Welfare [FORTE, Grant No 2005-0734 and 2009-1077] and the Swedish Research Council [VR, Grant Nos 2009-6192, 825-2013-1645, and 821-2013-1646]. The funders had no involvement in the design, data collection, analysis, interpretation, nor writing the manuscript or decision to publish.
Open Access
This article is distributed under the terms of the Creative Commons Attribution 4.0 International License (
http://​creativecommons.​org/​licenses/​by/​4.​0/​
), which permits unrestricted use, distribution, and reproduction in any medium, provided you give appropriate credit to the original author(s) and the source, provide a link to the Creative Commons license, and indicate if changes were made.