01.12.2018 | Study protocol | Ausgabe 1/2018 Open Access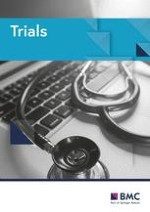 Tranexamic Acid versus Placebo to Prevent Blood Transfusion during Radical Cystectomy for Bladder Cancer (TACT): Study Protocol for a Randomized Controlled Trial
Zeitschrift:
Autoren:

Rodney H. Breau, Luke T. Lavallée, Sonya Cnossen, Kelsey Witiuk, Ilias Cagiannos, Franco Momoli, Gregory Bryson, Salmaan Kanji, Christopher Morash, Alexis Turgeon, Ryan Zarychanski, Ranjeeta Mallick, Greg Knoll, Dean A. Fergusson
Wichtige Hinweise
Electronic supplementary material
Abstract
Background
Radical cystectomy for bladder cancer is associated with a high risk of needing red blood cell transfusion. Tranexamic acid reduces blood loss during cardiac and orthopedic surgery, but no study has yet evaluated tranexamic acid use during cystectomy.
Methods
A randomized, double-blind (surgeon-, anesthesiologist-, patient-, data-monitor-blinded), placebo-controlled trial of tranexamic acid during cystectomy was initiated in June 2013. Prior to incision, the intervention arm participants receive a 10 mg/kg loading dose of intravenously administered tranexamic acid, followed by a 5 mg/kg/h maintenance infusion. In the control arm, the patient receives an identical volume of normal saline that is indistinguishable from the intervention. The primary outcome is any blood transfusion from the start of surgery up to 30 days post operative. There are no strict criteria to mandate the transfusion of blood products. The decision to transfuse is entirely at the discretion of the treating physicians who are blinded to patient allocation. Physicians are allowed to utilize all resources to make transfusion decisions, including serum hemoglobin concentration and vital signs. To date, 147 patients of a planned 354 have been randomized to the study.
Discussion
This protocol reviews pertinent data relating to blood transfusion during radical cystectomy, highlighting the need to identify methods for reducing blood loss and preventing transfusion in patients receiving radical cystectomy. It explains the clinical rationale for using tranexamic acid to reduce blood loss during cystectomy, and outlines the study methods of our ongoing randomized controlled trial.
Trial registrations
Canadian Institute for Health Research (CIHR) Protocol: MOP-342559; ClinicalTrials.gov, ID: NCT01869413. Registered on 5 June 2013.