05.06.2019 | Original Article | Ausgabe 8/2019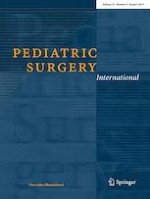 Transabdominal re-do pouch surgery in pediatric patients for failed ileal pouch anal anastomosis: a case matched study
Zeitschrift:
Autoren:

Erman Aytac, Eren Esen, H. Hande Aydinli, Hasan T. Kirat, David M. Schwartzberg, Feza H. Remzi
Wichtige Hinweise
Publisher's Note
Springer Nature remains neutral with regard to jurisdictional claims in published maps and institutional affiliations.
Abstract
Purpose
Data regarding safety and feasibility of re-do ileal pouch anal anastomosis (IPAA) for failed ileal pouch in children are limited. In this study, we compared the short- and long-term outcomes of re-do IPAA in pediatric and adult populations in a case-matched setting.
Methods
Between March 2007 and June 2017, pediatric patients undergoing a transabdominal re-do IPAA by single surgeon were reviewed and case matched with adult counterparts. Short- and long-term outcomes including complications, functional outcomes, and quality of life of the two groups were compared.
Results
60 patients were included (pediatric,
n 
= 30; adult,
n 
= 30). Time between index IPAA and re-do IPAA was shorter in the pediatric group (30 ± 26 vs 86 ± 74 months,
p 
= 0.001). In the pediatric population, the existing pouch was more commonly used to construct the re-do pouch (
n 
= 19 vs
n 
= 12,
p 
= 0.07). There was a trend towards the presence of less postoperative complications in pediatric group (
n 
= 13 vs
n 
= 20,
p 
= 0.07). There were no reoperations or mortality. Long-term pouch survival was comparable between two groups (
p 
= 0.96). Six re-do IPAAs failed in the study period.
Conclusion
Re-do IPAA is safe and feasible in pediatric population with failed IPAA and can be performed with similar short- and long-term outcomes compared to adults in experienced hands.