20.12.2016 | Original Article | Ausgabe 3/2017 Open Access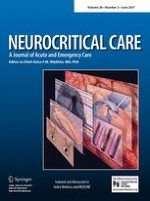 Transcranial Doppler Monitoring of Intracranial Pressure Plateau Waves
Zeitschrift:
Autoren:

Danilo Cardim, Bernhard Schmidt, Chiara Robba, Joseph Donnelly, Corina Puppo, Marek Czosnyka, Peter Smielewski
Introduction
Methods
Results
In 27 patients, a total of 36 plateau waves were identified (7 patients presented two plateau waves, and one patient presented 3 plateau waves). Table
1
presents correlations (∆
R
) between ∆ICP and ∆nICP and averaged correlations in time domain.
Table 1
Median values (IQR) of the differences between plateau and baseline phase (
∆
[mmHg]),
∆
correlations with ICP, correlations in time domain for all assessed methods and area under ROC curve for detection of ICP above 35 mmHg
| Method | | | | AUC (95% CI) |
| --- | --- | --- | --- | --- |
| nICP_BB | 9.00 (13.18–5.05) | 0.44* | 0.78 ± 0.15 | 0.82 (0.71–0.93) |
| nICP_FVd | 10.10 (17.74–4.56) | 0.19 | 0.62 ± 0.46 | 0.77 (0.65–0.88) |
| nICP_CrCP | 2.89 (4.12–2.11) | 0.48* | 0.78 ± 0.30 | 0.79 (0.67–0.91) |
| nICP_PI | 2.82 (5.20–1.92) | 0.30 | 0.80 ± 0.24 | 0.81 (0.70–0.91) |
| ICP | 24.49 (26.72–21.19) | – | – | |
Correlations in time domain are independent of mean values of ICP or nICP and represent the ability of a nICP method to replicate relative changes observed in direct ICP across time. In average, correlations in time were reasonably good, with
R
> 0.60 for all methods. nICP_PI, nICP_BB, and nICP_CrCP presented similar averaged correlations in time (
R
≥ 0.78). Examples of good and poor correlations between ICP and nICP during plateau waves are shown in Fig.
1
.
×
Correlations between ∆ICP and ∆nICP were better represented by nICP_CrCP and nICP_BB, while the other methods presented inferior and nonsignificant correlations (Fig.
2
). All ∆nICP mean values were significantly underestimated in comparison with ∆ICP.
×
Table
1
also contains the prediction values for each nICP method according to the ROC analysis. The best AUC value for predicting intracranial hypertension (i.e., ICP ≥ 35 mmHg) was presented by nICP_PI. Nevertheless, all methods presented AUC above 0.7, an indication of reasonable prediction abilities for detecting ICH. The DeLong's test for two correlated ROC curves did not reveal any statistically significant difference between nICP methods. The ICP thresholds yielding the best sensitivity and specificity were 27.41 mmHg (AUC = 0.86), 28.42 mmHg (AUC = 0.79), 23.08 mmHg (AUC = 0.75), and 20.28 mmHg (AUC = 0.84), respectively, for nICP_BB, FVd, CrCP, and PI, respectively.
nICP_CrCP and nICP_PI presented null values for specificity and negative predictive value, indicating that values of these two estimators during plateau waves were always below 35 mmHg (although they reacted to rise in ICP, a remarkable underestimation of real pressure was observed). Nevertheless, all methods presented good positive predictive values (65, 69, 58, and 58% for nICP_BB, FVd, CrCP, and PI, respectively), which otherwise would indicate that many of the positive results were false positives.
Table
2
presents the median values (IQR) for the physiological variables evaluated during baseline and plateau phases. During plateau waves, ICP (and ICP pulse amplitude—ICP Amp) increased and CPP decreased significantly, whereas ABP remained unchanged. FV
m
and FV
d
presented significant decreases, whereas FV
s
increased significantly. This resulted in significant increase in PI and decrease in CVR. As the only nICP method provides ICP waveform, nICP_BB presented increased pulse amplitude (nICP_BB Amp), even with replication of the characteristic triangular waveform shape observed during plateau waves [
30
] (Fig.
3
). The correlation between ∆ICP Amp and ∆nICP_BB Amp was significant (
R
= 0.50,
p
< 0.05); however, nICP_BB Amp was significantly underestimated in comparison with ICP Amp during plateau phase (Bias = −2.88 mmHg,
p
< 0.05).
Table 2
Median (IQR) values for all physiological variables estimated during baseline and plateau, with their respective ∆ correlations with ∆ICP and ∆ABP
| Variable | Baseline | Plateau |
| --- | --- | --- |
| ICP | 22.81 (28.49–19.91) | 46.45 (55.22–40.64)* |
| ABP | 93.34 (98.30–86.14) | 93.55 (97.44–85.28) |
| HR | 75.72 (84.91–65.42) | 74.73 (80.45–66.14)* |
| CPP | 70.89 (78.22–60.38) | 45.91 (52.87–37.17)* |
| FV m | 57.31 (71.87–43.16) | 45.52 (63.96–33.15)* |
| FV s | 109.35 (132.35–92.78) | 113.55 (141.72–99.44)* |
| FV d | 31.04 (40.24–23.26) | 22.99 (36.60–10.97)* |
| PI | 1.39 (1.68–1.21) | 2.00 (2.83–1.68)* |
| CVR | 1.23 (1.47–1.00) | 0.99 (1.25–0.68)* |
| CBV Amp | 2.38 (3.73–1.82) | 3.36 (4.77–2.42)* |
| CrCP | 51.37 (56.88–41.89) | 65.33 (70.67–52.07)* |
| ICP Amp | 2.21 (2.58–1.70) | 6.16 (7.88–4.90)* |
| nICP_BB Amp | 1.97 (2.70–1.61) | 3.44 (4.07–2.67)* |
×
Discussion
In this work, we present the results of an assessment of a set of TCD-based nICP methods in a cohort of patients with changes in ICP purely of vasogenic origin (i.e., plateau waves of ICP). Within the evaluated methods, only nICP_BB and nICP_CrCP presented significant correlations with ∆ICP. On the other hand, changes in ICP recorded in time were confidently replicated by all methods.
Changes of ICP in time domain have been assessed in other clinical conditions, and it appears to be highly accurate when changes in ICP are of vasogenic origin. For instance, during CSF infusion tests a controlled and artificial increase in CSF circulation causes an elevation in ICP similar to the pattern observed during plateau waves. Nevertheless, the correlations in time domain obtained with the same nICP methods were considerably weaker [
19
] in comparison with those observed here, where ICP changes were specifically related to increases in cerebral arterial blood volume. Moreover, such findings were not better replicated when another TBI cohort was analyzed [
31
], in which changes in ICP across time were not always related to vasogenic waves.
For a better understanding of the results, we compared the accuracy measures of the assessed methods in different clinical conditions related to ICP increase (plateau waves, CSF infusion tests [
18
], and TBI [
31
]). The 95% confidence interval for nICP estimation is around 18 mmHg during plateau waves and 15 mmHg in infusion studies, while in TBI it is remarkably smaller, 9.4 mmHg. The black-box model is the best one across these three clinical scenarios. The correlation coefficient in time domain between real and estimated ICP is greatest during plateau waves (around 0.8, except for nICP_FVd [0.63]). For infusion studies, the correlation is much lower (between 0.3 and 0.4 for nICP_BB, FVd, and CrCP). In TBI, the correlation is between 0.5 to 0.6, but only for black-box and PI-based methods.
In respect to ICP accuracy, it is known that even the standard invasive techniques might not present the specified limits for error [
32
–
34
], particularly using intraparenchymal microtransducers. Thus, it is debatable whether these accuracy requirements are realistic for all sorts of ICP monitoring. In view of this, an important concept that should be stressed is ICP not solely "as a number," once dynamical features of this parameter, such as its waveform and relative changes in time, are fundamental for a proper assessment of the clinical state of the patient [
35
].
The nICP black-box model had been previously analyzed during plateau waves of ICP [
20
]. In that study, clinical material from 17 patients was used to construct the ICP simulation model, which produced better accuracy and better correlation between real and estimated values of ICP in comparison with our present study. This discrepancy could be associated with the way nICP_BB was generated in both studies. In Schmidt et al.'s previous study [
20
], the formation dataset was much more specific for plateau waves, in which 7 patients (41.18% of the dataset) presented such phenomena. On the other hand, the formation dataset used for the present study consisted of a large general TBI cohort (n = 140 patients), as mentioned previously.
In this regard, we could generally infer that nICP methods based on formation datasets specific for certain conditions may present better prediction performances than those based on general datasets. An example supporting this inference can be found in another study [
31
], which demonstrated that the same methods used here presented smaller 95% CI when analyzing a TBI cohort convergent to the formation datasets, i.e., general in terms of different sources of ICP changes. However, the obvious disadvantage of specific formation datasets is the restriction of applicability of the nICP method. This effect was observed when TBI dataset-generated nICP procedures were used for ICP assessment in an NPH cohort subjected to CSF infusion tests [
19
]. In that study, the use of non-specific nICP formation datasets resulted in rather large deviations from ICP.
Although the evaluated methods generally presented low correlations considering the magnitude of changes in ICP as an absolute value, not all clinical situations involving ICP monitoring may require high accuracy. Alternatively, TCD allows a noninvasive assessment of cerebral circulation dynamics as ICP changes in time domain, with the possibility to track nICP changes in real time in a variety of clinical settings (emergency rooms, ambulatories, operating theatres). This ability is one of the gains of using TCD for nICP monitoring, and it could potentially be applied as an alternative assessment or screening tool where ICP measurements are not part of a standard clinical protocol, or in situations which invasive ICP monitoring is contraindicated.
Plateau waves affect approximately 25% of TBI patients [
10
] and might also occur in other conditions such as subarachnoid hemorrhage [
7
], brain tumors, hydrocephalus [
8
], and craniosynostosis [
9
]. The identification of these phenomena could represent an important application of TCD-based noninvasive ICP methods for the conditions aforementioned, as plateau waves have been also reported to be associated with poor outcome in TBI patients, especially in regard to their duration [
10
]. Thus, identifying plateau waves as nICP changes in time domain could eventually provide to the clinician a better understanding of the clinical state of the patient and guide oriented treatments in situations of sustained plateau waves.
Limitations
The use of radial artery ABP zeroed at the level of the heart instead of the blood pressure in the intracranial compartment can be considered a limitation to this study. This condition might non-accurately approximate peripheral to intracranial ABP, which can specifically change the accuracy of methods relying on ABP waveform analysis. However, heart level zeroing was part of the clinical protocol and could not be changed during the TCD recordings. In addition, changes in cerebrovascular resistance produced by variations in PaCO 2 may disturb CPP estimation (nCPP) and could act as a confounding factor as this parameter was unavailable.
Conclusion
The methods of nICP assessment are remarkably accurate in detecting relative changes in ICP during plateau waves across time. Furthermore, they presented high performance in ruling out intracranial hypertension. These characteristics encourage the application of TCD-based nICP in clinical conditions where the knowledge of absolute values of ICP would not be essentially relevant. However, we could infer that the estimation of ICP absolute values by the nICP methods tested is still limited at the current state of development. Such inaccuracy might be related to the matter of non-specific nICP calibration.
Acknowledgments
We would like to thank all staff of the Neurosciences Critical Care Unit at Addenbrooke's Hospital, Cambridge, UK, for their support and professional cooperation.
Compliance with Ethical Standards
Conflict of interest
ICM+ software is licensed by the University of Cambridge, Cambridge Enterprise Ltd. MC and PS have a financial interest in a part of its licensing fee.
Ethical Approval
All procedures performed in studies involving human participants were in accordance with the ethical standards of the institutional and/or national research committee and with the 1964 Helsinki Declaration and its later amendments or comparable ethical standards.
Informed Consent
Informed consent was obtained from next of kin for individual participants included in the study in time of recording.
Open Access
This article is distributed under the terms of the Creative Commons Attribution 4.0 International License (
http://​creativecommons.​org/​licenses/​by/​4.​0/​
), which permits unrestricted use, distribution, and reproduction in any medium, provided you give appropriate credit to the original author(s) and the source, provide a link to the Creative Commons license, and indicate if changes were made.