01.12.2017 | Research article | Ausgabe 1/2017 Open Access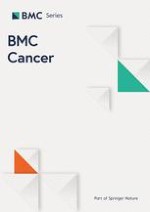 Transcriptional changes induced by bevacizumab combination therapy in responding and non-responding recurrent glioblastoma patients
Zeitschrift:
Autoren:

Thomas Urup, Line Mærsk Staunstrup, Signe Regner Michaelsen, Kristoffer Vitting-Seerup, Marc Bennedbæk, Anders Toft, Lars Rønn Olsen, Lars Jønson, Shohreh Issazadeh-Navikas, Helle Broholm, Petra Hamerlik, Hans Skovgaard Poulsen, Ulrik Lassen
Wichtige Hinweise
Electronic supplementary material
The online version of this article (doi:
10.​1186/​s12885-017-3251-3
) contains supplementary material, which is available to authorized users.
Abbreviations
CDKN1A
Cyclin-dependent kinase inhibitor 1A
ERK
Extracellular signal-regulated kinase
ERRB2
erb-b2 receptor tyrosine kinase 2
FFPE
Formalin-fixed paraffin embedded
FPKM
Fragments per kilobase per million reads
H3K27me3
Histone H3 thimethylation mark at K27
HIF1A
Hypoxia-inducible factor 1-alpha
IPA
Ingenuity pathway analysis
MRI
Magnetic resonance imaging
MSigDB
Molecular signatures database
PPARG
Peroxisome proliferator-activated receptor gamma
PRC2
Polycomp repressive complex 2
PRKCE
Protein kinase C, epsilon
RANO
Response assessment in neuro-oncology criteria
SERPINE-1
Serine protease inhibitor 1
SPDEF
Sam pointed domain containing ETS transcription factor
TGF-β1
Transforming growth factor beta 1
VEGF
Vascular endothelial growth factor
Background
In this study, we hypothesized that bevacizumab combination treatment exerts selective pressure on the tumors and creates adaptive transcriptional changes as tumors respond and progress. Accordingly, the aim was to identify transcriptional changes by RNA-Seq in paired tumor samples, before and after bevacizumab treatment in both responding and non-responding recurrent glioblastoma patients.
Methods
Patients
All patients with glioblastoma (pathologically confirmed WHO grade IV) treated at recurrence with bevacizumab plus irinotecan at Rigshospitalet in the period between May 2005 and December 2014, were assessed for eligibility. Eligibility criteria for this study were 1) response evaluability and 2) biomarker accessible tumor tissue prior to bevacizumab treatment and at time of progression after bevacizumab treatment. The criteria are specified below.
Treatment and clinical follow-up
Treatment at recurrence followed Danish national guidelines and was planned at a multidisciplinary team conference. If the neurosurgeons considered the tumor amenable for relapse surgery, this was offered in order to remove as much tumor tissue as possible. Bevacizumab and irinotecan therapy was administered according to a published treatment protocol [
20
]. Prior to initiation of treatment the patients had to have measurable progressive disease by contrast-enhanced MRI after standard therapy and had to be at least 4 weeks from prior chemotherapy and 3 months from completion of radiation therapy. Clinical and radiological follow-up was performed according to protocol [
20
]. Treatment response was evaluated based on the RANO criteria and response was confirmed on the subsequent follow-up MRI [
21
]. Responders were defined as patients with complete or partial response (CR + PR) and non-responders were defined as patients with stable disease (SD) or progressive disease (PD).
Sample acquisition and RNA preparation
A total of 264 patients were assessed for eligibility. Twenty-four response-evaluable patients had surgery before and after bevacizumab treatment and had archived paired FFPE tissue blocks at the Department of Pathology, Rigshospitalet. Tissue review was conducted by a neuropathologist, who was blinded to clinical outcome. The number of tumor cells was estimated based on hematoxylin and eosin-staining. Macrodissection was performed in a few cases to remove large amounts of normal brain tissue and only samples containing a tumor cell frequency > 50% were selected for RNA-extraction. If tumor blocks from relapse surgery prior to bevacizumab treatment were available and contained sufficient amount of tumor cells, they were included in preference to tumor blocks from time of glioblastoma diagnosis. All post-bevacizumab samples were obtained from relapse surgery following progression on bevacizumab treatment and no intermediate relapse therapy was administered. Three patients had an insufficient number of tumor cells in one of the paired tumor blocks and were excluded prior to analysis. Thus, a total of 21 patients with paired tumor blocks were included in the study. Samples were sectioned into 3 × 10 μm thick FFPE sections and RNA was extracted from paired tumor blocks in three equal sample-sized batches using Deparaffinization Solution (Qiagen, Ca. No. 19093) and RNeasy FFPE kit (Qiagen, Ca. No. 73504). RNA extracts were stored at −80 °C.
Library preparation for RNA-sequencing
Library preparation was carried out using the strand-specific Ovation Human FFPE RNA-Seq Library Systems from Nugen according to the instructions from the manufacturer. 250 ng of total RNA was used as input material for the cDNA synthesis and the double stranded cDNA was fragmented on the Covaris S2 (Covaris, Inc.) in microtubes using the following settings: duty cycle–10%/Intensity–5/cycles/burst-200 for a total of 180 s. RNA-Seq was performed on Illumina HiSeq 2500 (Illumina) as paired end sequencing 2 × 101 bases in Rapid Mode with 5 samples per run resulting in approximately 175 million paired-end reads per run. Raw data was converted to fastq files using CASAVA v1.8.2.
Filtering and differential expression analysis
Detailed description of the RNA-Seq analysis can be found in Additional file
1
: Supplementary Methods. Briefly, the raw sequencing data was trimmed with Trimmomatic and mapped to the human genome (
hg19
) with TopHat2 [
22
,
23
]. Genes were annotated (Ensemble annotation, release 66) and expression levels were quantified using featureCounts [
24
]. Libraries with less than 10% of genes having more than 15 fragments were discarded (
n
= 6). Only genes with at least 10 fragments and an abundance of at least 3 Fragments Per Kilobase per Million reads (FPKM) in at least 5 libraries in any of the 4 patient-groups (Fig.
1
) were kept for further analysis (15,630 genes). Differential expression analysis was performed using edgeR (v. 3.12.0) either as paired analysis (comparison 1 and 3) or a batch-corrected analysis (comparison 2, see Fig.
1
).
P
-values were corrected for multiple testing using the False Discovery Rate (FDR) approach and genes with adjusted
P
-values <0.05 were considered significant. Analysis was performed using the software R version 3.2.2 (R Development Core Team, Vienna, Aurstria,
http://​www.​R-project.​org
). Expression data are available at the NCBI Geo datasets, accession number GSE79671.
×
Gene set enrichment analysis
Gene ontology gene-sets were downloaded (6th Jan 2016) from The European Bioinformatics Institute's official Gene Ontology mirror. Gene ontology terms from the 5th level of the hierarchical gene ontology term tree were used. Gene sets c2, c3, c6 and H were downloaded from The Molecular Signatures Database (MSigDB [
25
], via
http://​bioinf.​wehi.​edu.​au/​software/​MSigDB/​
). The enrichment analysis was done using a Fisher's exact test only considering the 15,630 tested genes, and
P
-values were FDR corrected and adjusted
P
-value <0.05 were considered significant.
Ingenuity pathway analysis
Differentially expressed genes were analyzed by QIAGEN's Ingenuity Pathway Analysis (IPA) using the core analysis with default settings and 15,630 tested genes from the RNA-Seq dataset as background (IPA®,QIAGEN Redwood City,
www.​qiagen.​com/​ingenuity
). The software uses a large database of curated data and computes a score for each network according to the fit of the set of genes supplied in the analysis. The scores were calculated by right-tailed Fisher's exact test. The scores derived from
P
-values, indicate the likelihood of supplied genes belonging to a network versus those obtained by chance. A consistency score (Z-score) > 2 or < −2 indicates with ≥99% confidence that a supplied gene network was not generated by chance alone. Enrichment of "canonical pathways" and "up-stream regulators" with a Z-score > 2 or < −2 were considered for analysis [
26
].
Results
Discussion
By functional data mining of published literature, we studied the transcriptional changes of responding glioblastomas to uncover potential response and resistance mechanisms to bevacizumab treatment.
Our study presented a few limitations. The small number of highly selected patients may or may not have introduced selection bias. The lack of paired glioblastomas treated without bevacizumab containing regimens make it difficult to interpret whether the observed effects are related to bevacizumab response or treatment response in general. In this context, the exploratory results have to be carefully interpreted taking these limitations into account. Nevertheless, the baseline patient/sample characteristics and gene profiles did not differ between responding and non-responding patients and the pre-analytical design of the study make it less likely that the observed changes are independent of response to bevacizumab combination therapy.
Conclusions
To our knowledge this is the first study to demonstrate that bevacizumab combination treatment has a significant impact on transcriptional changes in a paired analysis of responding glioblastoma patients. Such changes were minimal in patients not responding. In conclusion, we hypothesize that the identified adaptive changes of bevacizumab responding glioblastomas are related to response or resistance mechanisms. If validated, these data may prove valuable for identification of new and more efficient bevacizumab combination regimens.
Acknowledgements
Not applicable.
Funding
The study was kindly supported by Rigshospitalet, the Danish Cancer Society, Doctor Sophus Carl Emil Friis and Wife Olga Friis' grant and I.M. Daehnfeldt Foundation. None of the funding bodies were involved in the study design, data collection, analysis, data interpretation or manuscript writing.
Availability of data and material
Authors' contributions
TU, SRM, HSP and UL have contributed with the design of the study, interpretation of data and drafting of manuscript. LMS, KVS, MB, LRO and LJ have contributed substantially to the bioinformatic analyses and interpretation of data. HB has contributed to sample preparations, histological analyses and manuscript drafting. AT, SIN and PH have contributed substantially to data interpretation, manuscript drafting and revision. All authors edited and approved the final manuscript.
Competing interests
The authors declare that they have no competing interests.
Consent for publication
Exemption from obtaining informed consent for publication was granted by the National Ethical Committee (1304518) as patients were either deceased or fatally ill. Patient data were anonymized and de-identified prior to analysis.
Ethics approval and consent to participate
The study was conducted in accordance with the Helsinki Declaration. The study was approved by the Regional Ethical Committee (H-2-2012-069) and the Danish National Ethical Committee (1304518). Exemption from obtaining informed consent to participate was granted by the National Ethical Committee as patients were either deceased or fatally ill.
Publisher's Note
Springer Nature remains neutral with regard to jurisdictional claims in published maps and institutional affiliations.
Open Access
This article is distributed under the terms of the Creative Commons Attribution 4.0 International License (
http://​creativecommons.​org/​licenses/​by/​4.​0/​
), which permits unrestricted use, distribution, and reproduction in any medium, provided you give appropriate credit to the original author(s) and the source, provide a link to the Creative Commons license, and indicate if changes were made. The Creative Commons Public Domain Dedication waiver (
http://​creativecommons.​org/​publicdomain/​zero/​1.​0/​
) applies to the data made available in this article, unless otherwise stated.