11.01.2017 | Original Article | Ausgabe 4/2017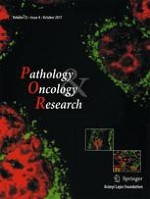 Transcriptional Regulatory Network Analysis for Gastric Cancer Based on mRNA Microarray
Zeitschrift:
Autor:

Yan Wang
Abstract
We aimed to screen the differential expressed genes (DEGs) and transcriptional factors (TFs) related to gastric cancer. GSE19826 microarray data downloaded from Gene Expression Omnibus was used to identify the differentially expressed genes (DEGs) and PPI network of DEGs were constructed by the Retrieval of Interacting Genes database. Pathway enrichment analysis of DEGs were performed by Gene Set Enrichment Analysis. Then, the transcriptional regulatory network was constructed based on TRANSFAC database. Finally, regulatory impact factor (RIF) of TF was calculated. We identified 446 DEGs including 209 up- and 237 down-regulated genes. These DEGs were mainly significantly enriched in 5 pathways including ECM receptor interaction (
p
= 0.013899), spliceosome (
p
= 0.025591), bladder cancer (
p
= 0.026316), focal adhesion (
p
= 0.047809) and WNT signaling pathway (
p
= 0.048077). PPI network with 247 nodes and 913 edges were constructed and COL5A2 was the hub node. Transcriptional regulatory network with 6 differently expressed TFs, 58 non-differently expressed TFs, 44 DEGs and 735 non-DEGs was constructed. Finally, top 5 TFs including
CRX, TFAP4, NKX2–1, MYB
and
RARG
with higher Z
RIF
were screened. The identified DEGs such as
COL5A2
and
TOP2A
, and TFs including
EGR2, FOXM1, NKX2–1
and
TFAP4
might be the critical genes and TFs for gastric cancer.