01.08.2011 | Research article | Ausgabe 4/2011 Open Access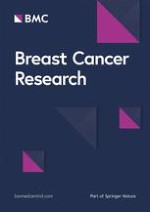 Transcriptome analysis of embryonic mammary cells reveals insights into mammary lineage establishment
Zeitschrift:
Autoren:

Olivia Wansbury, Alan Mackay, Naoko Kogata, Costas Mitsopoulos, Howard Kendrick, Kathryn Davidson, Christiana Ruhrberg, Jorge S Reis-Filho, Matthew J Smalley, Marketa Zvelebil, Beatrice A Howard
Wichtige Hinweise
Electronic supplementary material
The online version of this article (doi:
10.​1186/​bcr2928
) contains supplementary material, which is available to authorized users.
Competing interests
The authors declare that they have no competing interests.
Authors' contributions
OW isolated RNA, performed
in situ
hybridisations, IHC, IF and carried out qRT-PCR analysis. AM carried out SAM analysis on the array data and processed the datasets. NK isolated, stained and analysed mammary primordial samples and performed gene set enrichment analyses. KD and CR contributed samples, antibody staining, and manuscript writing and review. HK provided samples and assisted with qRT-PCR analysis. JSR-F and MJS contributed to the design of the study, manuscript writing and review. CM and MZ carried out network analysis on array data. BAH conceived the study, collected primordial samples, analyzed the microarray data and wrote the manuscript. All authors have read and approved the manuscript for publication.
Abstract
Introduction
The mammary primordium forms during embryogenesis as a result of inductive interactions between its constitutive tissues, the mesenchyme and epithelium, and represents the earliest evidence of commitment to the mammary lineage. Previous studies of embryonic mouse mammary epithelium indicated that, by mid-gestation, these cells are determined to a mammary cell fate and that a stem cell population has been delimited. Mammary mesenchyme can induce mammary development from simple epithelium even across species and classes, and can partially restore features of differentiated tissue to mouse mammary tumours in co-culture experiments. Despite these exciting properties, the molecular identity of embryonic mammary cells remains to be fully characterised.
Methods
Here, we define the transcriptome of the mammary primordium and the two distinct cellular compartments that comprise it, the mammary primordial bud epithelium and mammary mesenchyme. Pathway and network analysis was performed and comparisons of embryonic mammary gene expression profiles to those of both postnatal mouse and human mammary epithelial cell sub-populations and stroma were made.
Results
Several of the genes we have detected in our embryonic mammary cell signatures were previously shown to regulate mammary cell fate and development, but we also identified a large number of novel candidates. Additionally, we determined genes that were expressed by both embryonic and postnatal mammary cells, which represent candidate regulators of mammary cell fate, differentiation and progenitor cell function that could signal from mammary lineage inception during embryogenesis through postnatal development. Comparison of embryonic mammary cell signatures with those of human breast cells identified potential regulators of mammary progenitor cell functions conserved across species.
Conclusions
These results provide new insights into genetic regulatory mechanisms of mammary development, particularly identification of novel potential regulators of mammary fate and mesenchymal-epithelial cross-talk. Since cancers may represent diseases of mesenchymal-epithelial communications, we anticipate these results will provide foundations for further studies into the fundamental links between developmental, stem cell and breast cancer biology.