01.12.2017 | Research | Ausgabe 1/2017 Open Access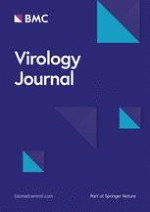 Transcriptomic profile of tobacco in response to
Tomato zonate spot orthotospovirus

infection
Zeitschrift:
Autoren:

Changjun Huang, Yupeng Cun, Haiqin Yu, Zhijun Tong, Bingguang Xiao, Zhongbang Song, Bingwu Wang, Yongping Li, Yong Liu
Wichtige Hinweise
Electronic supplementary material
The online version of this article (doi:
10.​1186/​s12985-017-0821-6
) contains supplementary material, which is available to authorized users.
Abbreviations
BLAST
Basic local alignment search tool
DEGs
Differentially expressed genes
ETI
Effector-triggered immunity
GAPDH
Glyceraldehyde-3-phosphate dehydrogenase
GBNV
Groundnut bud necrosis virus
GYSV
Groundnut yellow spot virus
KO
Kyoto Encyclopedia of Genes and Genomes Ortholog database
KOG
euKaryotic Ortholog Groups
NGS
Next generation sequencing
Nr
NCBI non-redundant protein sequences
Nt
NCBI nucleotide sequences
PAMP
Pathogen-associated molecular pattern
RdRp
RNA-dependent RNA polymerase
SVNV
Soybean vein necrosis virus
Swiss-Prot
A manually annotated and reviewed protein sequence database
TSWV
Tomato spotted wilt virus
UPR
Unfolded protein response
WSMoV
Watermelon silver mottle virus
Background
Orthotospoviruses, the group of plant-infecting members in family
Tospoviridae
(order
Bunyavirales)
, are exclusively transmitted by thrips in nature in the circulative propagative manner [
1
]. Orthotospoviruses have a broad host range, infecting more than 1000 plant species that include lots of important vegetable, legume, ornamental crops, and weeds. Most orthotospoviruses are characterized by spherical, membrane bound particles (80–120 nm in diameter) containing a tripartite genome of single-strand (ss) RNA, referred to as large (L), medium (M) and small (S) according to their size of genomic segments [
2
]. In general, the orthotospovirus genome encodes for four structural proteins and two non-structural proteins. The L RNA is in negative sense and encodes the RNA-dependent RNA polymerase (RdRp) on the viral complementary (vc) RNA, and the M RNA is in ambisense polarity and encodes for the precursor of two glycoproteins (Gn and Gc) and a non-structural protein (NSm) on the vc and viral (v) RNA respectively. The S RNA segment is in ambisense polarity and encodes the nucleocapsid (N) protein and another non-structural protein (NSs) on the vc and vRNA respectively. Based upon the N protein sequence, more than two dozen known
Orthotospovirus
species group into at least five distinct phylogenetic clades:
Tomato spotted wilt virus
(TSWV),
Soybean vein necrosis virus
(SVNV),
Iris yellow spot virus
(IYSV),
Watermelon silver mottle virus
(WSMoV), and
Groundnut yellow spot virus
(GYSV) [
3
]. Furthermore, geographical delineation of distinct clades occurs with origin for each orthotospovirus, such as WSMoV and GYSV clades are classified into Asia group, TSWV and SVNV clades are classified into Americas group and IYSV clade belongs to Europe /Asia group [
2
,
3
].
Tomato zonate spot virus
(TZSV) was recently isolated in Yunnan province, China as a new orthotospovirus species belonging to WSMoV clade, which corresponds to geographically based original for Asia clade [
4
]. The results from field investigations and laboratory inoculations indicated that TZSV, similar as TSWV, has a wide host range that includes both agricultural crops and ornamental plant species [
4
–
7
]. As one of the most economically important member of both
Orthotospovirus
and WSMoV (Asia) clade, two studies have been conducted to reveal the clustering pattern and cellular distribution characteristics of TZSV in host plant cells and the relationship between TZSV and its vector [
8
,
9
]. However, molecular mechanisms associated with pathogenesis and symptom in the host plant of TZSV remains to be elucidated.
Gene expression profiling analysis, such as microarray represents a well-established technology that has been widely exploited and a vast amount of gene expression data has been accumulated in the last decades, particularly in regard to host-pathogen interactions. Today, next generation sequencing (NGS) technologies including RNA-Seq and digital gene expression (DGE) have created innovative ways to quickly identify a large numbers of genes involved in response to biotic and/or abiotic stress. Due to its ability to provide a deep and precise description of the entire transcriptome, RNA-seq technology has rapidly become a popular tool for genome-wide expression profiling. Up until now, multiple studies have elucidated a nearly complete picture of inducible defense response pathways against various virus infections using this technique [
10
–
18
]. Through comparing RNA-seq data from diseased and control plant hosts, sets of genes activated or repressed in varying plant-virus systems have been revealed. However, similar studies by using RNA-seq analysis to illumonate the underlying responsive expression patterns of orthotospovirus infection have not been conducted.
In the present study, transcriptome level of tobacco plants (
Nicotiana tabacum
cv. K326), an important natural host of orthotospoviruses, in responses to TZSV infection was analyzed by using next-generation deep sequencing approach. We investigated the global gene expression changes between virus-infected and mock-inoculated samples. The results indicated that genes involved in photosynthesis and the chlorophyll metabolism pathway were significantly suppressed with TZSV infection. In addition, TZSV infection can potentially perturb primary metabolism pathway of tobacco and activate plant-pathogen interaction, cause changes in endoplasmic reticulum stress and secondary metabolism pathways, such as sesquiterpenoid, triterpenoid, flavonoid, and phenylpropanoid biosynthesis. Our study has provided further insight into the gene expression profiling in orthotospovirus-infected compatible hosts. To best of our knowledge, this is first report of global transcriptome monitoring of host responses to TZSV infection.
Methods
Plant growth and virus inoculation
Tobacco plants grown in insect-free growth chamber at a temperature of 23 ± 2 °C and under a light intensity of 200 μmol m
−2
s
−1
(14 h photoperiod). TZSV isolate described previously [
6
] was stored in a freezer at −70 °C.
N. tabacum
plants were mechanically inoculated with the sap of TZSV at one month after planting (four to six-leaf stage). Viral inoculum (the TZSV sap) was prepared from approximately 1 g TZSV infected leaf tissue and homogenized in 10 ml inoculation buffer (0.1 M phosphate buffer, pH 7.0, 0.2% sodium sulfite and 0.01 M 2-mercaptoethanol). Mock-inoculated plants, used as control, were subjected to the same protocol using healthy leaf tissue. ELISA and RT-PCR assays were performed as described previously [
6
] to confirm virus infection in systemic leaves.
RNA extraction, RNA-Seq library construction and sequencing
Total RNA was extracted from systemic leaves of TZSV-infected and mock inoculated plants at 12 days post inoculation (dpi) by using TRIzolH Reagent (Invitrogen, San Diego, USA). RNA was treated with DNase I (Invitrogen) to remove residual genome DNA and its quality was verified using a 2100 Bioanalyzer RNA Nanochip (Agilent, Santa Clara, CA).
For RNA-Seq, equal quantities of total RNA from three biological repetitions were mixed and the pooled RNA samples were prepared respectively. Sequencing libraries were constructed by using 3 μg pooled RNA sample as input material and Illumina TruSeq™ RNA Sample Preparation Kit (Illumia, San Diego, USA) following the manufacturer's recommendations, respectively. For subsequent documentation, a tetrad index code was added to each sample. To obtain high quality mRNA, total RNA sample was purified by using poly-T oligo-attached magnetic beads. High quality mRNA was then used to synthesize first strand cDNA by using random primer and SuperScript II and subsequent second strand cDNA by using DNA polymerase I and RNase H. To select cDNA fragments of preferentially 150–200 bp in size, AMPure XP system (Beckman Coulter, Beverly, USA) was utilized to purify the library fragments. DNA fragments with ligated adaptor molecules on both ends were selectively enriched using Illumina PCR Primer Cocktail in a 10 cycle PCR reaction and then purified using AMPure XP system. The quality of library was assessed on the Agilent Bioanalyzer 2100 system and the clustering of the index-coded sample was performed on a cBot Cluster Generation System using TruSeq PE Cluster Kit v3-cBot-HS (Illumia) according to the vender's instructions.
Finally, the Hiseq™ 2500 platform (Illumia) was used for the library sequencing to generate 2 × 100 bp paired-end reads and for original image processing of sequences, base calling, and quality value calculations.
Data filtering, de novo assembly and gene functional annotation
Raw data (raw reads) of fastq format were processed using in-house perl scripts and low quality reads and the adapter sequences from raw data were removed to obtain clean reads. High quality clean data were obtained by calculation of Q score, GC-content and sequence duplication level and subsequently used within all the downstream analyses.
Unigenes were generated by de novo assembly using Trinity [
19
] and annotated by basic local alignment search tool (BLAST) searching (E-value ≤10
−5
) against seven different databases, including Nt (NCBI nucleotide sequences), Pfam (protein family), Nr (NCBI non-redundant protein sequences), Swiss-Prot (A manually annotated and reviewed protein sequence database), KOG (euKaryotic Ortholog Groups), GO (Gene Ontology) and KO (Kyoto Encyclopedia of Genes and Genomes Ortholog database). Priority order of Nr, Swiss-Prot, KO, and KOG was used to determine the sequence annotation of unigenes if results obtained using different databases conflicted with each other. Coding sequences (CDS) were extracted from unigene sequences and translated into peptide sequences based on information obtained from BLAST. ESTScan was recruited to predict coding regions and determine sequence direction of unigenes if no hits obtained in BLAST analysis.
Differential gene expression and pathway analysis
The edgeR program package was utilized to adjust the read counts by through one scaling normalized factor [
20
] and DEGseq R package was used to perform differential expression analysis for each sequenced library [
21
]. Q-value is a
p
-value that has been adjusted for the False Discovery Rate (FDR) [
22
] and the threshold for significantly differential expression was set as Q-value < 0.005 and |log
2
(fold change)| > 2.
The R packages, GOseq, which based Wallenius non-central hyper-geometric distribution and can adjust for gene-length bias in differentially expressed genes (DEGs), was implemented to perform GO enrichment analysis of the DEGs [
23
]. The metabolic pathway was constructed based on KEGG database and the statistical enrichment of DEGs within constructed metabolic pathways was tested by KOBAS software [
24
].
Quantitative RT-PCR (qRT-PCR) analysis
To confirm the results of transcriptome analysis, the expression levels of 28 selected genes were measured in systemic leaves of mock- and TZSV-infected
N. tabacum
using qRT-PCR. Total RNAs were extracted using TRIzol reagent (Invitrogen) and treated with DNase I (TaKaRa, Dalian, China) to remove residual genome DNA. The concentration of total RNA was adjusted to 1 μg/μl with nuclease-free water and first-strand cDNA was synthsized using a PrimeScript First Strand cDNA Synthesis Kit (TaKaRa). qRT-PCR assay was performed on the LightCycler 480
@
II machine with LightCycler 480
@
SYBR I Master PCR mix (Roche Applied Science, Basel, Switzerland). Thermocycling conditions were as follows: 95 °C for 5 min; and 40 cycles of 95 °C for 10 s, 60 °C for 15 s, and 72 °C for 20 s, followed by melting curve generation (68 °C to 95 °C). Primers used in qRT-PCR assay were designed using the Premier 6 (PremierBiosoft, Palo Alto, CA) software and shown in Table S1 (Additional file
1
: Table S1). To normalize the amount of cDNA in each reaction during qRT-PCR, an internal control gene primers that target the
glyceraldehyde-3-phosphate dehydrogenase
(
GAPDH
) was used with above PCR reagents and conditions. Three biological and three technical replicates were used for each experiment to limit the effect of biological variation and random noise associated with equipment.
Results
Discussion
Conclusions
This is the first transcriptome-wide study of the TZSV-host interaction. High-throughput RNA-Seq analysis was used in this study permitted us to draw some general associations between TZSV infection and global gene-expression changes in the TZSV-infected tobacco. GO and KEGG pathway enrichment analysis revealed biological pathway that are affected in the host plant infected by TZSV, and showed how mock- and TZSV-inoculation trigger a different cascade of molecular changes. Our analyses further our understanding of system level changes associated with TZSV infection, and provide a useful basis for future explorations of symptom development and pathogenesis of TZSV infection.
Acknowledgements
The authors would like to thank Dr. Jiahong Dong in the Biotechnology and Germplasm Resources Institute, at the Yunnan Academy of Agricultural Sciences for providing polyclonal antiserum of TZSV.
Funding
This work was supported by Yunnan Applied Basic Research Projects (2015FB163), Key Laboratory Funding of CNTC (2014TBB02 and 2014YN18), National Natural Science Foundation of China (No. 31460462) and Project for Technological Innovation Talents of Yunnan. These funding bodies had no role in design, collection, and analysis of the study and preparation of the manuscript.
Ethics approval and consent to participate
Not applicable.
Consent for publication
Not applicable.
Competing interests
The authors declare that they have no competing interests.
Publisher's Note
Springer Nature remains neutral with regard to jurisdictional claims in published maps and institutional affiliations.
Open Access
This article is distributed under the terms of the Creative Commons Attribution 4.0 International License (
http://​creativecommons.​org/​licenses/​by/​4.​0/​
), which permits unrestricted use, distribution, and reproduction in any medium, provided you give appropriate credit to the original author(s) and the source, provide a link to the Creative Commons license, and indicate if changes were made. The Creative Commons Public Domain Dedication waiver (
http://​creativecommons.​org/​publicdomain/​zero/​1.​0/​
) applies to the data made available in this article, unless otherwise stated.