25.01.2018 | Transcriptomics | Ausgabe 3/2018 Open Access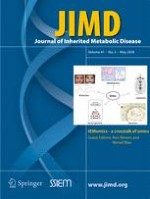 "Transcriptomics": molecular diagnosis of inborn errors of metabolism via RNA-sequencing
Zeitschrift:
Autoren:

Laura S. Kremer, Saskia B. Wortmann, Holger Prokisch
Wichtige Hinweise
Communicated by: Shamima Rahman
Introduction
Specifications and implications of RNA-seq
Systematic RNA-seq analysis for Mendelian disorders
Until recently, it was unclear how many rare and strong RNA alterations are present in an individual because it was not systematically investigated. This information is, however, crucial when implementing RNA-seq as a diagnostic tool. To tackle this question, two recent studies performed large scale RNA-seq on patient material. Cummings et al performed RNA-seq on patient derived muscle in a cohort of 50 patients with rare genetically unsolved muscle disorders (Cummings et al
2017
). They first characterized aberrant splicing in patients previously diagnosed with splice site mutations. Subsequently this information was used to develop an algorithm that could detect aberrant exon-exon junctions which were present only in patient material but not in reference muscle RNA-seq data generated in the Genotype-Tissue Expression (GTEx) Consortium project (Consortium
2015
). The latest GTEx release (dbGaP Accession phs000424.v7.p2) provides RNA-seq data for 53 tissues from 714 donors and depicts the most comprehensive reference dataset. Authorized access to the data is possible upon request. To identify rare (by Cummings et al referred to as unique) splicing events they only considered outlier events that were maximal in a given sample and less than half in the next highest sample. This analysis revealed unique splicing events in 190 genes per individual.
A similar rationale was applied by us in a study comprising 105 fibroblast cell lines from suspected mitochondrial disease patients (Kremer et al
2017
). We adapted an algorithm for splicing quantitative trait loci (QTLs) to a rare disease setting where we detected novel splice sites by comparing one sample against all others. We could identify five aberrant splicing events per sample using a stringent cut-off of a Hochberg adjusted
P
-value smaller than 0.05. To additionally determine genes whose expression was outside their physical range, we computed expression outliers using a combination of Z-score, which is simply a measure of fold change considering the inter-sample variance, and statistical testing. As before, we adapted the filters for a rare disease setting and determined rare and strong events with a Hochberg adjusted
P
-value smaller than 0.05 and a Z-score larger than 3. This resulted in the median detection of one expression outlier per sample. Finally, we also investigated the median MAE genes per sample. We filtered for heterozygous rare (minor allele frequency (MAF) < 0.001) single nucleotide variants (SNVs) with an RNA-seq coverage of more than 10 reads and considered the SNVs mono-allelically expressed when more than 80% of the reads harbored that variant and the Hochberg adjusted
P
-value was smaller than 0.05. This revealed a median of six MAE events per sample. Altogether, the number of strong and rare RNA defects per sample is rather small (median = 12) and, therefore, allows manual inspection to clarify a pathogenic impact of the aberration.
Consequently, in both studies, the pipelines were applied to patients for whom WES or WGS was not conclusive, with the aim to investigate the usability of RNA-seq as a diagnostic tool. Indeed, the authors could identify pathogenic variation by computing aberrant expression, MAE, and aberrant splicing. Both studies revealed aberrant splicing as the most frequently observed pathogenic aberration. The detected aberrant splicing events comprised exon skipping, exon truncation, exon creation, and intron retention and were caused by coding as well as non-coding variants.
Notably, most of the exonic variants were VUS that previously evaded variant prioritization. RNA-seq analysis provided crucial functional evidence for their pathological relevance. Even more strikingly, aberrant splicing was also evoked by putatively synonymous variants. Cummings et al report a synonymous variant in
RYR1
causing an exonic splice gain as the novel splice site is stronger than the canonical splice site. In
POMGNT1
they showed exon skipping as a result of a synonymous variant disrupting a splice motif. Importantly, detection of aberrant splicing did not only provide crucial information on exonic variants but also enabled the identification of pathogenic non-coding variants. Cummings et al found a hemizygous intronic variant in
DMD
resulting in the creation of a novel exon yielding a premature stop codon in three patients. In four patients, an intronic variant in
COL6A1
exerted the same effect of pseudoexon creation. Interestingly, they identified this variant in 27 additional patients where it occurred independently.
Similarly, we detected a homozygous deep intronic variant in
TIMMDC1
in three families also creating a pseudoexon and resulting in a premature stop codon.
TIMMDC1
also appeared as an expression outlier in investigated samples, most probably due to nonsense mediated RNA decay (NMD) as result of the premature stop codon.
Taken together, both studies clearly demonstrate the power of RNA-seq to reliably detect pathogenic RNA defects that were not obvious solely from genetic information. Cummings et al achieved a diagnostic yield of 35% (by solving 17/50 patients), while our study reached a diagnostic rate of 10% (5/48 patients were solved) (Table
1
). It is noteworthy that the two studies differ in their approach due to the characteristic of the investigated patient cohort and expected genetic defects where both scenarios are likely encountered in a clinical setting. Cummings et al performed their study in a phenotypically stratified patient cohort. Patients with overlapping clinical signs and symptoms potentially share the same genetic cause resulting in a common RNA defect among these patients. For the detection of rare RNA effects, it is therefore extremely important to employ large control datasets, for example GTEx.
Table 1
Diagnostic yield of RNA-sequencing
Disorder

Average diagnostic yield WES/WGS

Diagnostic yield before RNA-sequencing

Diagnostic yield after RNA-sequencing

Rare muscular disorders (Cummings et al

2017

)

0/50 = 0% (0 solved, 4 VUS, 12 candidate genes, 34 no candidates after WES/WGS)

17/50 = 35% (17 solved, 2 VUS, 8 candidate genes, 27 no candidates)

Mitochondrial disorders (Kremer et al

2017

)

0/48 = 0%

5/48 = 10%
In contrast, we investigated suspected mitochondrial disease patients presenting with diverse clinical phenotypes. Therefore, since the patients were likely not affected by mutations in the same gene, hence resulting in diverging RNA defects, the samples served as good controls for each other. Furthermore, Cummings et al restricted their analysis to known disease associated-genes and, therefore, employed less stringent filtering while we screened genome-wide requiring more stringent filtering criteria. In the first case the pipeline is more sensitive for small changes, which is feasible when focusing on a limited set of genes. The second genome-wide study is less sensitive and only focuses on strong outliers, but is able to detect a cryptic exon in a gene that was previously not known to be associated with a mitochondrial disorder
(TIMMDC1).
Importantly, our study revealed aberrant splicing in two patients at a position to which background splicing was evident in controls, consistent with a previous report that cryptic splice sites are often not entirely repressed but active at low levels (Kapustin et al
2011
). Our systematic analysis confirmed that 70% of the private exons arose from weak splice sites. These weak splicing events are usually dismissed as 'noise' since they are only supported by a few reads in a given sample. Our analysis showed that they could be detected as accumulation points across multiple individuals: weakly spliced cryptic exons are loci more susceptible to turn into strongly spliced sites than other intronic regions. This observation may help in the future to detect variants causing cryptic splicing.
Limitations of RNA-seq ("the tissue is the issue")
As outlined in both studies, tissue specific expression is a major obstacle in transcriptome analysis. So far, there is no systematic study whether disease causing variants cluster in genes which are tissue specifically or ubiquitously expressed. Cummings et al report a poor expression of genes commonly affected in muscle disease in blood and fibroblasts. On the other hand, in fibroblasts, we detected expression of 2574 of the 3768 disease genes (68%) listed in OMIM. Therefore, even though the affected tissue is not available, the RNA-seq analysis of an unaffected tissue can still provide crucial evidence for molecular diagnostics. To the contrary, performing the analysis in unaffected tissue might benefit the detection of primary perturbations, as regulatory secondary consequences on other genes are restricted (Li et al
2017
).
Secondary effects that are common in the investigated samples will be removed by appropriate filtering for rare effects. In contrast, specific secondary effects for a given mutation can only be distinguished from the primary defect upon careful dissection of the underlying molecular variation.
Furthermore, detection of splicing aberrations requires sophisticated bioinformatic tools as splicing can be extremely complex. Alternative splicing is seen for 94% of genes (Ward and Cooper
2010
), while different isoforms might be expressed in different tissues or even coexist in a given tissue. The alterations can come in many flavors, where exons can be shortened, removed, or created and introns can be retained. Existing prediction tools largely facilitate reduction of the complexity and limit the number of the detected events. However, as is true for all prediction tools, these tools are not perfect and the predicted events need further experimental validation. Discoveries from RNA-seq analysis are largely limited to variants causing an RNA defect. Generally, RNA-seq does not provide any functional evidence easing the prioritization of missense mutations.
Multiomics
With increasing numbers of quantitative metabolomic studies and readily available platforms, quantitative metabolomics, specifically for IEM, will sooner or later complement molecular DNA and RNA analysis in diagnostic settings. The small number of established gene-metabolite associations limit the genome-wide endeavors to interrogate metabolomics data to prioritize pathogenic variants. For established associations integration of metabolomics data has already proven fruitful for variant prioritization (Abela et al
2016
; van Karnebeek et al
2016
).
Concluding remarks
Initial studies have shown the successful application of RNA-seq analysis to complement inconclusive WES and WGS studies for mitochondrial disease and neuromuscular disorders (additional yield of 10–35%). Future endeavors increasing sample sizes will allow even more sophisticated statistical analysis and will further enable the detection of moderate events. To achieve the maximal outcome of such investigations we have to join forces on a global level. Especially in the field of rare disorders, the benefits of sharing data among global registries to increase sample size and statistical power are evident. As for sharing WES and WGS, ethical concerns need to be addressed and instances for data protection need to be in place.
Finally, with increasing success of therapeutic modulation of aberrant splicing, as recently shown for spinal muscular atrophy (Finkel et al
2017
), and in preclinical studies also for IEM (Matos et al
2014
; Coelho et al
2015
; Lee et al
2016
; Chang et al
2017
), further treatment strategies for disorders discovered by RNA-seq might be developed.
Acknowledgements
Open access funding provided by Paracelsus Medical University.
Compliance with ethical standards
Conflict of interest
L. S. Kremer, S. B. Wortmann, and H. Prokisch declare that they have no conflict of interest.
Open Access
This article is distributed under the terms of the Creative Commons Attribution 4.0 International License (http://creativecommons.org/licenses/by/4.0/), which permits unrestricted use, distribution, and reproduction in any medium, provided you give appropriate credit to the original author(s) and the source, provide a link to the Creative Commons license, and indicate if changes were made.