30.04.2015 | Original Article | Ausgabe 4/2016 Open Access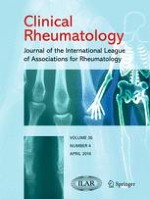 Transitional care in clinical networks for young people with juvenile idiopathic arthritis: current situation and challenges
Zeitschrift:
Autoren:

Mary Cruikshank, Helen E. Foster, Jane Stewart, Joyce E. Davidson, Tim Rapley
Abstract
Clinical networks for paediatric and adolescent rheumatology are evolving, and their effect and role in the transition process between paediatric and adult services are unknown. We therefore explored the experiences of those involved to try and understand this further. Health professionals, young people with juvenile idiopathic arthritis and their families were recruited via five national health service paediatric and adolescent rheumatology specialist centres and networks across the UK. Seventy participants took part in focus groups and one-to-one interviews. Data was analysed using coding, memoing and mapping techniques to identify features of transitional services across the sector. Variation and inequities in transitional care exist. Although transition services in networks are evolving, development has lagged behind other areas with network establishment focusing more on access to paediatric rheumatology multidisciplinary teams. Challenges include workforce shortfalls, differences in service priorities, standards and healthcare infrastructures, and managing the legacy of historic encounters. Providing equitable high-quality clinically effective services for transition across the UK has a long way to go. There is a call from within the sector for more protected time, staff and resources to develop transition roles and services, as well as streamlining of local referral pathways between paediatric and adult healthcare services. In addition, there is a need to support professionals in developing their understanding of transitional care in clinical networks, particularly around service design, organisational change and the interpersonal skills required for collaborative working.
•
Transitional care in clinical networks requires collaborative working and an effective interface with paediatric and adult rheumatology
.
•
Professional centrism and historic encounters may affect collaborative relationships within clinical networks
.
•
Education programmes need to support the development of interpersonal skills and change management, to facilitate professionals in networks delivering transitional care
.